A red-hot Texans defense will be tested this week as
heads north to take on the New York Giants. Houston has played its best defense of the season the last two weeks, first allowing just seven points and 220 total yards to the Jacksonville Jaguars, and then limiting the Tennessee Titans to a mere 197 yards this past Sunday in Nashville.
The 197 yards by the Titans was the second fewest by a Texans opponent in franchise history.
's defensive effort over the last fortnight has allowed its defense to leap frog four teams in the NFL defensive rankings. DeMeco Ryans said that defense is finally gelling after a rough start to the season.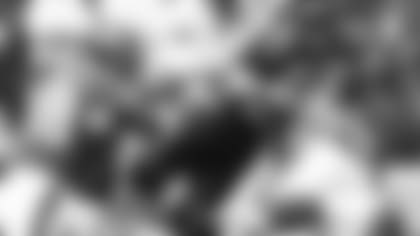 "Everybody's just playing more together as a team," Ryans said. "Everybody has a better understanding of the defense and the last couple of weeks here, we've become an entire unit. Guys are just stepping up and being stingy. Being stingy is just making the offense work for everything they are going to get."
's recent success on the defensive side of the ball can be attributed to effort more than anything else.
"Overall the players have played hard and anytime you play hard you're going to have some results," Smith said . "They're still some areas we're concerned about. We're not getting turnovers. The difference in the football game last week was, even though we played well, their defense created turnovers and we didn't, and that was the big difference in the football game."
This Sunday would be a good time to start collecting some turnovers. The Giants enter the game ranked fourth in the NFL in total offense and have playmakers all over the field. With Tiki Barber in the backfield and Eli Manning leading a solid passing attack, the
is easily one of the most balanced offensive units in the entire NFL.
"Right now they're the most balanced offense we've faced," Smith said. "They have an outstanding running game in terms of scheme, attitude and toughness…They've made a commitment to running the ball. They just don't have one back, they have two of them with Barber, who's doing a fabulous job and (
) Jacobs, who's a 6-4, 265 pound man that can run the ball. We'll have our work cut out for us, they do a great job there."
If the run game wasn't scary enough, Manning, now in his third NFL campaign has a plethora of weapons at his disposal in the passing game.
"In the passing game, Manning has really improved," Smith said. "He's a got a strong arm, intelligent quarterback, reads coverages very, very well. Besides that, it's not like you're going into a game where you need to stop one guy in the receiving corps, they have plenty of them. They really distribute the ball. They've done a great job of distributing it to all different receivers, (Amani) Toomer, (Plaxico) Burress, Barber, (Jeremy ) Shockey, so they have a lot of weapons and you're fully aware of it. It's hard to stop one guy, let alone when you have five of them you have to stop. That's why they've been winning football games and they're a great football team and it will be a great challenge for us."
And if you doubt that Manning likes to spread the ball around, look no further then a Giants' stat sheet. Burress leads
with 31 catches and five touchdowns, but Toomer is hot on his heels with 30 receptions and three touchdowns. Throw Shockey into the mix with 23 receptions and four scores and you how the Giants' passing game epitomizes a truly balanced offense.
While the passing game is enough to keep Texans defenders up at night, in the NFL, it's all about stopping the run and as far as Ryans is concerned, stopping Barber is priority number one Sunday.
"Every week you have to shut down the run first, that's first and foremost," Ryans said. "You have to shut a team down and make them throw the ball on you, that's what you want them to do so you can get pressure on them and get a sack. The running game, that's the most important. They have two great running backs, Jacobs and Barber, two solid backs, so it's going to be a challenge for our defense to see if we can stop the running game."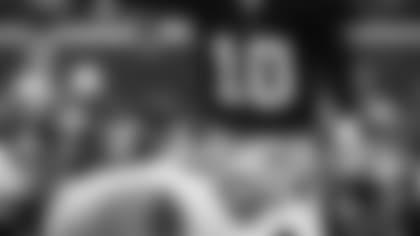 At linebacker, Ryans should probably be focused on stopping the run, it's his forte, which probably explains why fellow backer Morlon Greenwood had Barber and the Giants run game on his mind Wednesday.
"Going into any game in the National Football League, you have to stop the run first,"
said. "If you don't stop the run, they're going to continue to run the ball on you. If you are successful stopping the run, then you have to concentrate on making them one dimensional just throwing the ball. We have to focus on stopping the running game first and then the passing game will come into effect and we'll have to stop that as well."
Defensive end Antwan Peek, who is most effective as a pass rusher, even acknowledged the importance of slowing down the Giants run game, while giving a nod to the overall balance of the Giants attack.
"They're balanced, but what we're focusing on the most is Tiki Barber and the running game," Peek said. "We feel like as long as we stop Tiki, he's a big part of their offense. Eli's a lot like his brother, he's a quality quarterback. He's going to be real good in years to come, but what's important to us his stopping the run and if we can do that I think we can keep the game close."
Texans fans would like more than merely keeping Sunday's game close. If
does focus too much on Barber and Jacobs, Manning has shown the ability to make opponents pay.
said that Peyton's younger brother has improved every season since his rookie campaign of 2004.
"Eli has made a lot of progression over the years,"
said. "Now he's more mature and he's distributing the ball all over the field. He's not making a lot of mistakes. He's letting his tall receivers like Plaxico Burress make plays and has a big play tight end in Jeremy Shockey…Eli's doing a good job scoring and keeping their defense off the field so it's going to be a tough challenge for us."
The whole season has been a challenge for the Texans defense.
will be battling their fourth, top-five offense of the season Sunday in just their eighth game of the season.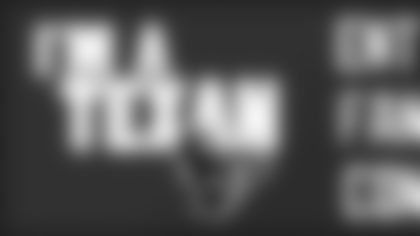 After playing Philadelphia and Indianapolis , respectively, the first two weeks of the season,
ranked last in the NFL in total defense. However, nearly two months later, the Eagles and Colts rank first and second in total offense, so the Texans' defense hasn't been the only unit victimized by them.
That experience to start the season may be just what the Texans need to draw upon Sunday as they take on
"Well find out (if that helped)," Smith said. "When you're in gameday, that will tell. But we feel like we've matured as a defensive football team right now. Every week is a challenge and next week there will be another one. We hope that the lessons and experiences that we have had will have us ready for the next step. Time will tell. Right now we've been making strides and we've gotten better." 
There's no better way to find out how good the Texans defense has got then to test it against one of the league's best offenses, at least that's what the players want.
"This is a great test for our team and that's what we want," Ryans said. "We want to go against the best and see how we are. They're the fourth-best offense in the league, so we want to compare ourselves to a top offense and see how we matchup."