As one might imagine, the Giants give plenty of teams matchup problems. After all, you don't get to 5-2 by accident in the NFL. While the Texans have plenty to worry about heading into Giants Stadium this Sunday, perhaps the most intriguing matchup of the game will be the Texans' offensive line against the Giants' defensive line.
Book ended by Pro Bowlers Michael Strahan and Osi Umenyiora, the Giants boast one of the best front fours in the NFL.
has collected 17 sacks over the past four games, while playing some of their best football of the season.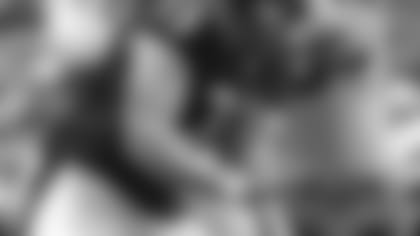 Umenyiora leads the team with five sacks, while Strahan is second with three, and the Giants have depth past their top two rushers. The Buccaneers probably thought they were catching a break last week when Umenyiora was out with a hip flexor injury. They didn't. Rookie Mathias Kiwanuka stepped in and recorded six tackles, a sack and forced a fumble. Not bad.
Umenyiora is questionable for this Sunday, still nursing his hip, but last week's performance from Kiwanuka seems to guarantee a stiff pass rush even if the Giants' top sack man can't go against
Enter the Texans' offensive line. After arguably their strongest performance of the season against the Jacksonville Jaguars, the unit struggled last week in
. Several sacks and motion penalties contributed to a disappointing loss.
To make matters worse, the unit isn't exactly healthy, either. After losing Charles Spencer for the year in Week 2, Ephraim Salaam stepped in at left tackle. Now Salaam is suffering from ankle, rib and knee injuries. He has yet to practice this week and will most likely be a game-time decision Sunday.
"If he can walk, he'll play for us," Gary Kubiak said Wednesday of Salaam's status. "He's beat up and given us everything he has, went back in the game (Sunday) and did everything he could possibly do. I think he'll make it. If it was today, there's no way. I've seen Ephraim before and, like I said, if he can give it up for his team, he'll do it."
Right tackle Zach Wiegert has been slowed in recent weeks by a nagging knee injury. He's missed some practice time this week as well, and while Wiegert is almost certainly going to be available Sunday, the Texans' starting tackles are not seeing very much action in practice. That's something that doesn't necessarily worry Kubiak.
"I don't worry about Zach and Ephraim and guys like that knowing what to do," Kubiak said. "Do they need reps like everybody else? Yeah, they do, but they can play without all the practice. We'll just get them ready mentally and Eric (Winston) is a kid that needs all the reps physically. In a lot of ways, it works out great for Eric."
Winston will be the X-factor Sunday. After finding his name among the inactives at the start of the season, he's found the field the past three Sundays, seeing action against the Cowboys, Jaguars and Titans. As a third-round draft pick in April, Winston is still adjusting to life in the NFL.
"Everyone is just a lot smarter," Winston said of pro players versus collegians. "You can do the same thing to guys in college over and over again, and for whatever reason, they would never adjust to it. Here, they see it once and you can't do it again. They're smart, they know when you take a bad step or you do something wrong and they'll exploit that right there. That's been the biggest adjustment."
Winston might be called on to start at left tackle on Sunday if Salaam is unable to play, and he's fully aware of the challenge that lies ahead.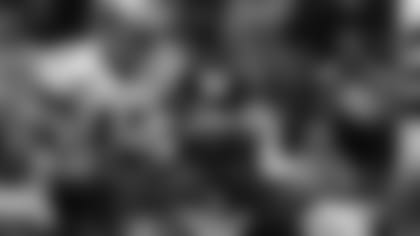 "Those guys are great," Winston said of the Giants' D-line. "Strahan is unbelievable. Umenyiora, if he can play, is great and I've gone against Kiwanuka in college before. We're going to have our hands full up front."
You would think that Winston might change his focus this week. For the first time in his NFL career, Winston's play could help decide a game on Sunday, but he's not letting that affect his approach.
"I'm just going to prepare for the game the same way I always do and expecting that I'm going to play," Winston said. "That's the only way you can go into it with the guys banged up a little bit."
If Winston is called into action and Kiwanuka happens to line up across from him, at least Winston will have some comfort level. The two went head-to-head in 2003 while Winston was at the
"I'm familiar with him," Winston said. "Obviously, he's got a ton better since his sophomore year, and I'd like to think that I've gotten a little better. It will be fun. I don't know if Umenyiora is going to be in or out, but if I get a chance to play, I'm sure I'll see him out there at some point."
But to focus on a possible Winston-Kiwanuka reunion would be to dismiss the player that will likely give the Texans the most trouble on Sunday: Strahan.
With 32 tackles on the year, Strahan is once again demonstrating that he is more than just an edge pass rusher.
"He's a big-time pro," Kubiak said of the future Hall of Famer. "You know you watch those guys, and he'll study the guys he's going to play against. He'll have something new for them, you know. He's a big-time pro and come Sunday he'll know what he has to do to beat that guy across from him."
If Winston is inserted at left tackle, he will see Strahan line up across from him for much of the afternoon. And since Strahan is as well known as a defensive lineman can get, there could be an intimidation factor in play on Sunday.
Assistant head coach/offense Mike Sherman said that Strahan probably has a mental edge on most left tackles in the NFL, not just a rookie.
"He certainly raises all the red flags with the way he's made a habit of getting back there and getting in the quarterback's lap, so that's quite a challenge for our guys," Sherman said. "But they know it's a challenge, so hopefully they can rise to the occasion." 
If the Texans' offensive line does rise to the challenge,
might just pull an upset Sunday.