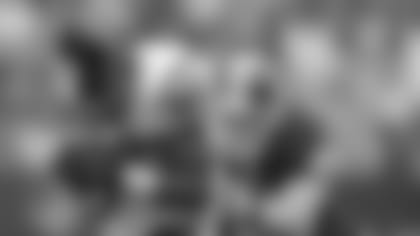 Not much time and not often. But the Texans wide receiver non pareil had to admit that there were times when he and former University of Miami free safety Sean Taylor, now starting for the Washington Redskins, just had to chuckle Sunday afternoon at Reliant Stadium.
"We'd sit there sometimes and just laugh," Johnson said with a smile trying to creep onto his face. "It felt funny playing against him. So every time he'd tackle me, we'd just laugh. It was the craziest feeling in the world because we played together so much at Miami.
"I guess it was just awkward."
Awkward for different reasons probably. Awkward for Taylor because Johnson was having a field day, catching 11 passes for 152 yards (13.8 avg.).
The catches were one short of Johnson's personal best, set twice before, and the yards were 18 yards short of his best, done against Minnesota two years ago. His other 12-catch game was against St. Louis for 159 yards last year.
Johnson obviously felt awkward because he was doing so well and his team was doing so poorly. It was something he never felt when he played with Taylor at highly successful Miami.
"It's frustrating," Johnson said. "I've been going through this for four years now. I'm kind of sick and tired of losing."
Someone asked the puzzling question of how this compares to winning.
"It doesn't compare," Johnson said with a frown. "Winning doesn't compare in any way to losing.
"At some point, you've just go to get tired of losing and say you won't take it any more. I don't think the guys on this team like to lose. But they've got to not accept it."
Especially the way they are losing. It seems like the Texans are competitive early each week, but that quickly disintegrates.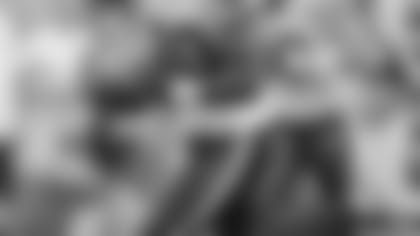 "It seems to be the same story every week," Johnson said. "We start off good, but then you kick yourself in the butt. It was just mistakes. Just little things we did to stop ourselves. You drop the ball on second-and-three on the snap. Little things like that. Those are the kinds of things that hurt you."
It was no consolation that Johnson had such a big day, not even the 53-yard catch to set up the first Texans touchdown.
"It was something we had been practicing all week," he said. "You know that they're an aggressive defense. We knew if we kept David (Carr) protected, that that play would be wide open and it worked out just like we planned."
A lot of things worked out as planned for Carr and Johnson, even if it didn't affect the scoreboard much.
"I just had more opportunities today," Johnson said. "I always say, whenever I have opportunities, I just try to make the best of them."
Playing against Taylor and wide receiver Santana Moss, another Miami-ex, Johnson made the most of 11 opportunities and both old friends noticed.
"They just came up and said good game," Johnson said. "I took what they said and appreciated it. But I know it wasn't enough.
"Me and Santana especially have a good relationship. We talk during the week on the phone and I know we'll talk about this."
Johnson just hopes his laughing with Taylor isn't an omen of worse things to come.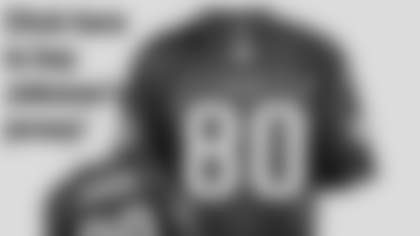 ](http://store.houstontexans.com/product/index.jsp?productId=1798250&cp=2237490&page=2&doVSearch=no&clickid=mainnavgeartxt&pageBucket=0&parentPage=family)
"We just can't seem to win," Johnson said. "We're going to become a laughingstock if this keeps happening.
"It's not time to go into the tank. It's just frustrating. We haven't had a winning season since I've been here and it's hard to take."
And certainly nothing to laugh about.
EDITOR'S NOTE:Jim Carley is a veteran Houston sportswriter who has covered the NFL for more than 25 years. He has worked for such newspapers as the Fort Worth Star-Telegram, The Houston Post, the Los Angeles Herald-Examiner and the National Sports Daily covering such teams as the Dallas Cowboys, the Houston Oilers, the Los Angeles Rams and the Oakland Raiders.