Carr still in drive:** Gary Kubiak was firm in his declaration of David Carr returning to the starting lineup this week following Sunday's loss to the Titans in
. After committing three turnovers, Carr gave way to Sage Rosenfels who led three touchdown drives in the second half leaving some to wonder if Kubiak might be eager to call on Rosenfels again, this time more quickly, if Carr struggles this Sunday.
"No, I'm not worried about that," Kubiak said. "I made that decision because I thought us not protecting the ball was not giving us a chance to win the game. We were playing very well on the defensive side of the ball, we more moving the ball on offense and we were trying to win the football game and turning the ball over was hurting our football team. That's why I made the decision and I told David that."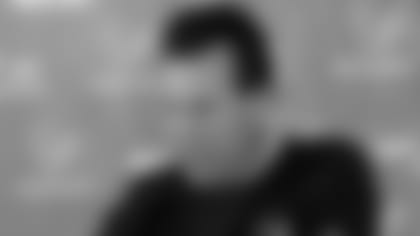 Kubiak talked with the media for over 20 minutes Monday afternoon and almost half of the discussion centered on
's embattled signal caller. However, for Kubiak, the decision to start Carr again Sunday is an easy one and when the Texans return to the practice field Wednesday, it will be business as usual for number eight and the offense.
"I'm going back to David because I know that's what is best for this football team," Kubiak said. "His leadership and the type of leader he becomes is what's important to the Houston Texans franchise. I'm going to do everything I can to make him the best player he can be. It was an unfortunate situation yesterday, but I thought (pulling him) was best because we were turning the ball over, but we'll go back to where we were Wednesday morning."
Sage was solid: If you're wondering that the decision to have Carr start Sunday has something to do with Sage Rosenfels' performance against the Titans, think again. Rosenfels' stat line speaks for itself and after breaking down yesterday's loss on film, Kubiak had nothing but praise for his backup quarterback.
"I thought it was excellent," Kubiak said of Rosenfels' performance. "First thing is, it was very professional. You go in the game, I think it was his second play, he throws it to Andre (Johnson) and the ball gets picked and Andre should make that play, he'd be the first person to tell you that, as a quarterback that can really deject you or you can fluff it off and go on. For him to have that happen to him after we make the change, and that's his first throw, and then to come back and play the way he played the rest of the game just tells you what he's all about. He's a big time pro and he played like it."
Defense strong again:Yesterday's loss in
can't be pinned on the defense. The 197 total yards of offense from the Titans represented the second-lowest total for a Texans opponent in franchise history. That followed a performance at home in which the defense allowed only seven points to the Jacksonville Jaguars.
"They've been playing very well, quietly been playing very, very well," Kubiak said of his defense. "I think what's happened is that they've grown with Richard's (Smith) defense. They know the scheme, they know what's expected from them. Getting some guys back has helped…We're playing better up front. Our effort up front yesterday was exceptional, chasing the ball. It was Mario's (Williams) best effort in a football game, I know we talk about him a lot, N.D. Kalu was exceptional in the game, DeMeco Ryans just continues to play, I think he had 11 tackles, and Morlon Greenwood played well."
Despite the defense stepping up the past few weeks, creating turnovers and limiting big plays have still been a problem and remain as the only factors that are keeping the unit from being truly special.
"The thing I've been telling our defense is that they're playing well, but I want them to feel like they can dominate, play well for four quarters," Kubiak said. "You know we gave up two big plays that led to 14 points, but if we don't give those up, regardless of what was happening on the other side of the ball, we might still have found a way to get it done. I just continue to challenge them and I expect them to get better and better, but they have been playing extremely well."
defense on Sunday, the Titans' pass rush did present problems for the offensive line, particularly the first three quarters. The tackle position, especially, was singled out as having problems. While Kubiak wouldn't make excuses for Ephraim Salaam and Zach Wiegert, the two staring offensive tackles, he did point out that both are close to 100 percent and that he was pleased with their effort against the Titans.
"I'm not concerned about their effort," Kubiak said. "They're both playing extremely hard right now. Ephraim's really beat up right now. He got put in that situation with us losing (Charles) Spencer...Zach got beat a few times. If you're a tackle in this business, you're going to get beat a few times. We could have protected better on the edges, but we also asked them to protect all day too because we were throwing a lot once we got down. Could they have played better? Yes, but I think both of them are giving us everything they got."
Kubiak said that rookie Eric Winston should expect to see more time at both left and right tackle as the season goes on. Winston has shown gradual improvement since training camp and played relatively well Sunday when he was called on.
"He did a pretty good job," Kubiak said. "He got beat a couple times on the edge too. We're talking about that as coaches, but I see him playing. Right now we're playing three guards and I see him starting to be a part of the rotation (at tackle). The other reason for that is that the other two are beat up. They've played a long, long time, and Ephraim's got every knick you can have on the injury report this morning, but we've got to get Eric a part of what we're doing and he's shown some signs of doing some good stuff."
Love for Lundy: Wali Lundy followed his breakout performance against the Jaguars with another solid performance Sunday against the Titans, breaking the century mark on the ground for the first time as a pro.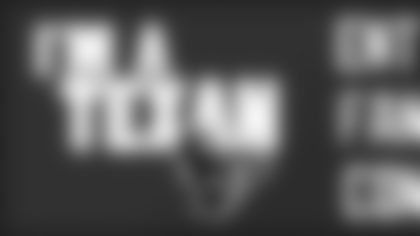 ](/news/article-1/win-an-nfl-championship-trip/A6AD06FB-D595-4B6B-8B58-69D5A66E3288)Lundy's recent success has left some people scratching their heads as to why the rookie was pulled from the field for a few weeks after starting in the season opener against Philadelphia . Kubiak said it was less to do with Lundy and more to do with fully evaluating all of
"I don't think there was anything I didn't like," Kubiak said of Lundy. "I told you I thought he struggled the first couple weeks with some protections and some of those things. I don't want to make that an excuse, though. I was looking at those other guys, that was my decision. I've never seen anything in Wali that I disliked. I like the kid and he's reassuring the fact that he was there opening day and he probably should have been there the whole time, but he has come back with a little different confidence."
Lundy appears to be entrenched as the Texans starting running back and his now averaging nearly five yards a carry on the season. Ron Dayne, who played Sunday, looks to be the backup for now. Kubiak said Monday that having a defense just tackle Dayne can wear down an opponent and open up more opportunities for Lundy.
Road Woes: Sunday's loss in
has not been competitive away from home this season, especially compared to their play at home. The Texans road problems could just be a growing pain for a young team.
"A lot of it's a mentality," Kubiak said of playing on the road. "It's a whole different thing on the road. I always approach our team with (that) you won't be able to hear so jumping offsides, that's not an excuse. You're not going to be able to get off the ball because you're not at home and you're not going to get the luxury of a snap count, so that's not an excuse. You probably won't get a call on the road so that's not an excuse.
"You can throw all of that out the window and it's still going to be harder to win on the road then it is at home, but you have to make it happen and there is no better feeling in the National Football League then going on the road, playing in somebody else's stadium, and getting out of there with a win."
will have two more chances to get its first win on the road since the 2004 season before returning to Reliant Stadium Nov. 19 against the Buffalo Bills. Getting a road win would be a goal that Kubaik would like to see reached sooner then later, and it might be as simple as merely limiting mistakes.
"This team has really got a hurdle in front of them and that is that playing on the road is something we have to get over and we have to figure out how we are going to do that," Kubiak said. "The best way we can do that is play some good clean football and see what happens."