In an event attended by many high ranking Houston officials, including Houston Mayor Bill White and Harris County Judge Robert Eckels, Texans defensive end Mario Williams was officially welcomed to Houston Monday in a ceremony at the Houston Ensemble Theater.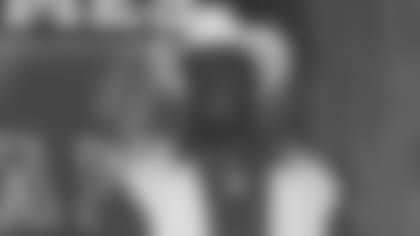 Number 90 jerseys were everywhere Monday as Williams greeted guests close to a cake in the shape of a football jersey with of course, the number 90 etched on. Williams greeted guests for well over a half hour Monday before a short program.
During his remarks, Mayor White told the crowd that some of his favorite players growing up were defensive ends.
"I always figured that if you had those guys on the defensive line, the other guys would get their hot dogs, but you're going to win the game," White said during his opening remarks. "It is so good to have you here in Houston. We're honored to have you here."
After White proclaimed June 5, 2006 Mario Williams day, it was Eckels turn to take the stage and present Williams with a "texas-sized" gavel with the Texans logo on it and joked that since it was his day, he would grant Williams free admission to Reliant Stadium.
"You are welcome in this city," Eckels told Williams. "We are proud to have you here."
The gift giving didn't stop with the gavel. Williams took home gift certificates for barbecue, fried chicken, a model of the black Pontiac Grand Prix he drove while in college, some art work and a white stetson that Williams put on proudly.
"This is unbelievable right now to stand here in front of everybody," Williams said. "I'm just taking this all in. I want to say first off, I want to thank god that I get to stand here in front of the leaders of Houston. This is something that I will always remember and always treasure."
Texans owner Bob McNair and head coach Gary Kubiak were both in attendance Monday along with Rick Smith, who was hired as the second general manager in team history Monday afternoon. However, they were not the only football personnel at the event as Oilers legend Elvin Bethea was in attendance.
Bethea, a member of the pro football Hall of Fame, said that while he normally likes to keep a low profile, Monday was a special evening and that he was eager to support a fellow linemen.
"He has the talent, he has the skills," Bethea said of Williams. "It's just a matter of how he puts that together in one package and goes out and performs. The pressure is going to be on him every Sunday from the first game he plays to the last game he plays."
Bethea added that he was looking forward to watching him play this season. Perhaps if he makes it out to Reliant Stadium this season, he'll be wearing the number 90 t-shirt that was handed out to everyone in attendance Monday night as they left the theater.