A thousand ships didn't float by and you could find no evidence of 50,000 Greeks attacking Troy.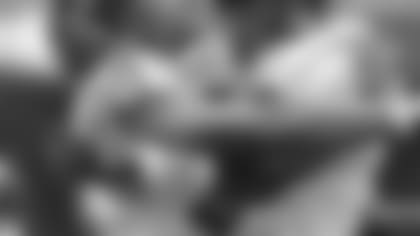 But Achilles almost showed up at the Texans' game Sunday.
At least, that's the way Travis Johnson saw it as the Texans' defensive line played mightily and the defense improved greatly in Houston's 17-15 victory over the Miami Dolphins.
Johnson thought Mario Williams, the vaunted No. 1 draft pick who had played with little fanfare the first three games, came close to playing Brad Pitt as Achilles in the movie "Troy."
Williams, who had not had a sack the first three games, got 1.5 sacks in consecutive plays in the fourth quarter. The two big plays came just moments after quarterback David Carr had scored a one-yard touchdown on the opening play of the fourth quarter to put the Texans ahead 10-6.
And the crowd went wild after Williams recorded his first sack. They knew the rookie from North Carolina State had been brought in to make such big plays.
"I told him this is the time," Johnson said of his discussion with Williams after the sack. "I told him he should have gotten another one right away and the reaction would have been even bigger.
"I told him it would have been like when Brad Pitt took over the beach in Troy and the soldiers started chanting 'Achilles, Achilles.'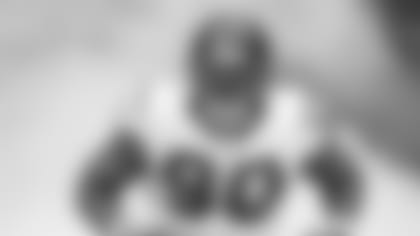 "They would have started chanting 'Mario, Mario,' and it would have been even bigger. They should have chanted 'Mario, Mario, Kum-By-Yah.' He would have been bigger than life."
The entire defense seemed to feed off the excitement caused by Williams' pivotal plays. And most were glad the rookie got the sacks.
"I cannot imagine the pressure that Mario has been under," defensive end Anthony Weaver said. "This must be a huge relief for him. It's a big burden off his back. I'm so happy for him."
So was linebacker DeMeco Ryans, who just missed getting the sack that Williams made, which dropped Culpepper for minus-three yards at the start of the series.
"I was more happy that Mario got the sack and I missed it," Ryans said. "He was kind of feeling the pressure. I'm glad to see him get the sack and get some of that pressure off of him."
For his part, Williams said he was just going back to his college days.
"I did everything different today," Williams said. "I did things the way I did in college, before the game and everywhere. I just got after it more."
That seemed to be the theme of the day as the Texans, who had managed only three sacks total the first three games, registered five for minus-30 yards on Miami's Daunte Culpepper. Culpepper, whose mobility is still somewhat limited by a knee injury suffered last year, had been sacked 16 times the first three games.
"We knew we had to get after it," Weaver said. "We knew he had the second-most sacks in the league and we had to put pressure on him.
"I think our defensive line played up to expectations today. We've got a lot of talent, but we hadn't been playing up to expectations until today."
Especially Williams. He also tipped Maimi's two-point pass that would have tied the game with 1:39 to play. He admits he probably would not have made that play the first three games.
"(Daunte) threw it and I just reached up and tipped it," Williams said. "I was in the right place at the right time.
"I'd say I probably wouldn't have been that fast before. I probably wouldn't have (made that play). But I've been kind of adjusting to it and things are starting to come along."[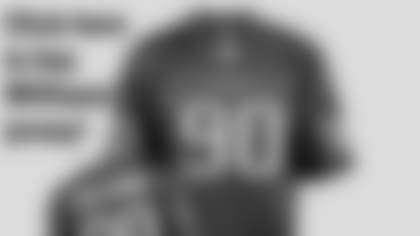 ](http://store.houstontexans.com/product/index.jsp?productId=2217545&cp=2237490&page=2&doVSearch=no&clickid=mainnavgeartxt&pageBucket=0&parentPage=family)
In all, head coach Gary Kubiak thought Williams had played well.
"He's a rookie and we're asking him to do a lot," Kubiak said. "The quicker we get any consistency out of a rookie, then they are no longer rookies. That's what we are after right now.
"You look at players like DeMeco, Owen (Daniels) and Mario, players that we are asking to grow up like three- or four-year players real fast so we can turn this program around. They understand that and are doing everything they can."
The fans finally did get into it after the game, chanting "Mario,  Mario" as Williams walked off the field.
"At first I didn't believe it," Williams said. "I didn't know what they were saying. I was thinking, 'They can't be saying my name.' But they were and it's just something that was phenomenal and I thank the fans 100 percent for it."
Miami today. Perhaps Troy and the world tomorrow. This defensive line seemed headed for stardom on Sunday.
EDITOR'S NOTE:Jim Carley is a veteran Houston sportswriter who has covered the NFL for more than 25 years. He has worked for such newspapers as the Fort Worth Star-Telegram, The Houston Post, the Los Angeles Herald-Examiner and the National Sports Daily covering such teams as the Dallas Cowboys, the Houston Oilers, the Los Angeles Rams and the Oakland Raiders.