*

* Here we go again?:** On the surface, this season's 0-2 start seems strikingly similar to
right now and forget that the Texans have played two tough opponents in the Philadelphia Eagles and Indianapolis Colts. Still, one's left to wonder if the 2006 Texans are doomed to repeat the mistakes of 2005 and allow a losing mentality to permeate an otherwise unified locker room.
"You know what, that's part of this business," Texans head coach Gary Kubiak said Monday. "If you don't think there are going to be tough times then you're in the wrong profession. We've got some tough times right now and we're struggling and it's the same group of guys for the most part that struggled through this last year, but we're going to fight out of it. Nobody's going to give us anything. It won't be easy, nobody expected it to be easy. They're playing hard, they're meeting hard and if we keep doing that, they'll be a carrot out there somewhere."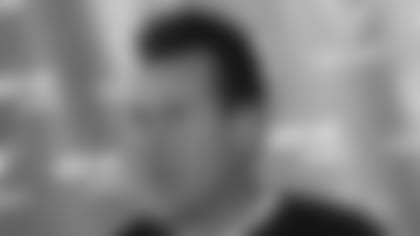 It should be pointed out that the Texans' head man has only endured two losing seasons as a player and coach since leaving Texas A&M. Monday,  he said that the start of this season certainly "has not been fun," but said he's here to turn things around.
Spencer lost for season: The turnaround that Kubiak and Co. are hoping for got a little tougher Sunday as starting left tackle Charles Spencer was lost for the season with a broken left leg sustained during Houston's loss to the Colts.
"He has a fracture of the tibia, a severe fracture," Kubiak said. "The surgery went well. I don't think we'll probably know a whole lot about his recovery for another couple months. They'll probably go in and do some more scoping in the area. It's a very severe injury and you just hope things work out well."
Spencer had shown signs so far of being something special at left tackle. Sunday he was matched up with Indy's Dwight Freeney and held his own for many parts of the game. Spencer drew the name "Big Nasty" early in training camp for his tenacious attitude and play and was rewarded by starting the first game of his NFL career. That career seems in doubt now much like the Texans future at the left tackle position.
The mentor becomes the man:With Spencer out, Ephraim Salaam will be thrust into the starting lineup, though Kubiak did say Monday that the Texans will add another tackle to the roster shortly. As for Salaam, part of the reason he was brought to Houston was to be a mentor to Spencer, now that part of his job is on hold and he's back to doing something he's done quite a lot of in the NFL…playing.
"He knows our system," Kubiak said of why he brought Salaam to
. "That was an easy transition for him. I wanted him here to help Charles (Spencer) become a pro and be there for him when we as a coaching staff were not and he's been doing that for us and he's done a good job. Now, the situation that we have, we couldn't have a better guy. He's played a ton in this league. He played a great deal last year and I expect him to step up."
A new swingman:Salaam had been
's "swing tackle' meaning he could be substituted at either right or left tackle during a game. With him entrenched at left tackle, at least for now, the search for a new swing man begins and might end with Eric Winston.
"We've got to talk through that, but right now the best thing for the team is to get (Eric) Winston going. It's tough role to ask a young guy to be a swing guy on game day, to play those two spots, but for the future of the football team, it might be in our best interest. It's a tough situation, but I'm sure he'll respond to it. He's a good kid and he's been working hard."
's three-headed monster at running back of Ron Dayne, Samkon Gado and Wali Lundy accounted for 98 yards rushing Sunday in Indy. Kubiak said Monday that the three will continue to split time until one emerges as a featured back.
"I think we'll continue to play all three. We'll keep preparing all three. I think one of them will stand ahead of the others, that's just the way it tends to work out. I thought Wali (Lundy) did some good things, he did put the ball on the ground playing in a tough environment. It's a new step for him. Ronnie (Ron Dayne) did some good things, got a little tired, hasn't played in a while. Sam (Samkon Gado) came in and showed he's got some flash and has some big play ability."
Signs of hope: Although Kubiak had few positives to list after Sunday's lopsided loss, he did say that there were some positives that he saw after reviewing the game film.
"I think our guys are playing hard and I like our effort," Kubiak said. "I love the way some of our young guys are coming along. I'll continue to mention DeMeco (Ryans) as he plays and I'll throw in Owen Daniels with that with his effort yesterday, he did some really good stuff. I'm encouraged by the two backs (Ron Dayne and Samkon Gado) that we have right now that are going to make us better."
Kubiak didn't want to put blame in one area of the team, instead pointing the finger at both sides of the ball and the coaching staff. He said the goal will be to improve everyday. That starts Wednesday when the Texans return to the practice field.
Injury update:Charles Spencer was not the only casualty in yesterday's loss. Center Mike Flanagan sustained a left foot injury and will be day to day. Option, if Flanagan can't play on Sunday, include moving Steve McKinney to center and starting Fred Weary at right guard or sliding backup Drew Hodgdon into the starting role. That decision will come later in the week.