Texans quarterback David Carr had one of the best quotes of the week Wednesday morning.

Carr: "Andre's got a lot more catches in him. Definitely he's got a lot more."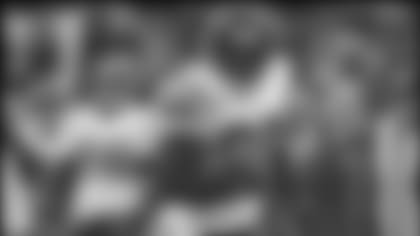 If that's not confidence in your number one receiver I don't know what is.
Texans fans may still be holding their breath after Johnson's 37-yard grab against the Chiefs Sunday – a catch that was made in the middle of two Kansas City defenders and held up under review.
Johnson was able to coral the ball while falling to the ground and landing hard on his back. If Carr wants to take more shots downfield, its obvious Johnson is ready and willing.
The receiver hasn't had a 100-yard game yet, but he's painfully close. He caught four passes for 96-yards against the Chiefs and is due for a breakout game.
The emergence of Derick Armstrong (two catches for 55 yards) will give the Raiders secondary even more to think about. * *
FANTASY GAME BALLS:Packers wide receiver Javon Walker came out of nowhere Sunday afternoon against the Colts. All of a sudden he's one of the league leaders at his position.
Yeah, a 200-yard receiving day with some touchdowns will do that. Nice game.
How can we forget Peyton Manning. Five touchdowns in the first half? That deserves a fantasy game ball.
You know, while we're at it, let's just give a game ball to everyone who played in the Colts-Packers game. The two teams combined to put up more than 900 yards of offense. So pigskins all around.
We've got plenty. This is all make believe.
RANT OF THE WEEK:Not really much to say this week other than usual frustrations associated with an empty waiver wire. You need a running back to replace a dud? Join the club.
Broncos running back Quentin Griffin couldn't be a one-hit wonder. Could he?
WHO TO START THIS WEEK:I like Dante Culpepper. He's a great guy and can really throw the football. He gives any team a great chance to win.
Ok, enough with the clichés.
Culpepper is completing 73 percent of his passes with eight touchdowns and only one interception. He still has Randy Moss and he's pushing for that MVP nod.
But perhaps the best quarterback around right now is Donovan McNabb. Evidently the addition of Terrell Owens meant that much to him. He's 74-of-106 on the year with eight touchdowns and no interceptions.
So here's some more love for the NFC – Bears running back Thomas Jones.
With Rex Grossman out he is quite possibly the only streak of offense the Bears have left. He'll get plenty of carries and by default will have similar numbers.
Jones has 329 yards and four touchdowns on the season.
Eagles kicker David Akers rounds out the list. If McNabb continues to put up touchdowns Akers will get plenty of extra points (I know that's only worth one measly point in fantasy, but every point counts)
Akers is six-of-seven on field goals.