The Texans' search for a new general manager appears to be focused on three people: Denver Broncos assistant general manager Rick Smith; Green Bay Packers director of player personnel Reggie McKenzie; and New Orleans Saints director of player personnel Rick Mueller.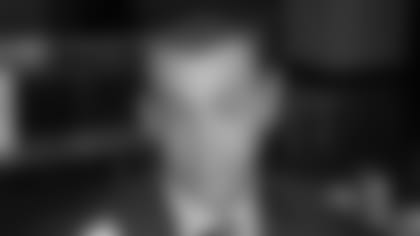 Mueller is the latest candidate to visit Houston. He stopped by Reliant Stadium on Tuesday to watch practice and speak with owner Bob McNair and other team officials about the opening.
"Right now, I don't have anyone else lined up (for interviews)," McNair said. "With what we've done previously and now, I think we have a good pool of candidates."
Mueller boasts an impressive list of credentials and a strong football pedigree. A former football player at the University of Puget Sound, Mueller was a three-year starter at quarterback before he became the quarterbacks coach at Washington State during Drew Bledsoe's tenure.
He has been a scout in the World League, the CFL and for the Jacksonville Jaguars, where he witnessed the team's rise from fledgling expansion franchise to playoff contender during the 1995-99 seasons. In Jacksonville, Mueller developed a track record for discovering talent, which led to his current position in New Orleans.
Ultimately, a strong talent evaluator is what McNair is seeking, regardless of the person's designation.
"You can put different titles on it, but their job is to bring in the talent," McNair said. "And that's really what we're interested in…There are other duties, but the rest of the duties are not that significant. We're covered well on the contract negotiation and on the salary cap with Danny Ferens, so that's an important part. But that's covered. So the rest of the things are other type duties that are not nearly as significant."
Mueller's name certainly is prevalent in league circles. His brother, Randy, is the general manager of the Miami Dolphins and has been in the league 20 years. Both brothers are highly regarded for their football expertise and started in the industry as teenagers with the Seattle Seahawks.
"I've known Rick and his brother, Randy, for a long time," Kubiak said following practice this morning. "I know Rick has done a fine job in New Orleans. He's ready for a shot like this, and I know that Bob is looking forward talking to him, as I am too. I have a lot of respect for (Rick) and the job that he's done in this league."
Following his meeting with McNair and Kubiak, Mueller felt confident that his interview went well. He lauded the team for its front office leadership and thinks he'd be a good fit in the organization.
"I think it's big," he said of possibly getting the job. "It recognizes that you've done something and that you're headed in the right direction and somebody thinks you can do things the right way. And I think that's what we've tried to do and that's what we're going to continue to do. But it means a lot to me, I'll say that."
This is Mueller's first interview to be a general manager, and he isn't putting a time frame on hearing back from the Texans. He expects McNair to be meticulous in his decision-making process. In the meantime, he'll stay patient and heed his brother's advice.
"I talked to (Randy) a few times," Rick said. "Basically his advice was to be myself, and obviously I think that is what I'll do and what I have done."