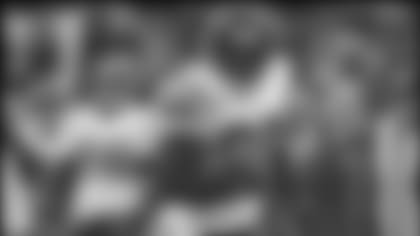 Our Texans Q&A returns this week with second-year wide receiver Andre Johnson.

Johnson caught 66 passes for 971 yards and four touchdowns as a rookie and is considered by many to be one of the top young wide receivers in the NFL. Johnson helped the University of Miami win a national championship and is hoping to add to that hardware as a pro in Houston.

Johnson answered a dozen questions after practice Wednesday. Click here ( ) to view his answers and thanks to all who sent in questions.

Andre,
How does playing football in the state of Texas compare to playing in the state of Florida?
--Matt

Well Matt,
I'd have to stick with Miami on that. Being from Miami, I think Miami has a lot of talent and Texas does too, but I have to stick with Miami on that.

Andre,
Do you find it more difficult to have an aggressive larger corner like Marcus Coleman or a finesse cover-corner like Aaron Glenn lining up to cover you?
--Brian

Brian,
I like to go against physical guys because I can be physical with them and I think that's an advantage for the wide receiver.

Andre,
What is your favorite food? And who is your celebrity crush?
--Adam
*
Adam,
I really don't have a favorite food but I like to eat seafood. I'd have to say my celebrity crush would have to be Ashanti.

Andre,
I recently read that you lost 10 lbs. to make you faster. But you have always been know for your size and speed dating back to when you were with Miami. Why did you lose weight when you're already one of the fastest receivers in the NFL?
--Alzameyan

Alzameyan,
I wanted to lose the weight because in college I played heavier than I do now. Last year I felt like I lost a lot of weight during the season and I felt that I should keep it off instead of gaining more weight and then going through the season and losing the weight again.

Andre,
I play wide receiver for a semi-pro football team. I wanted to know what drils you do to better your hand-eye coordination and to soften your hands for the catch?
--Kevin
* *
Kevin,
The only thing I do to better my hand-eye coordination is catch a lot of balls out of the jugs machine. I really don't really do much to soften my hands.

Andre,
Who was the toughest defensive back you faced last year and how do you think the new coverage rules will affect their effectiveness?
--Chris and Jennifer

Chris and Jennifer,
I think the toughest defensive back I faced last year was Ty Law. He's a very smart cornerback and it was my first year and he was a pretty experienced guy. I think the new coverage rules will help receivers out a lot. It will also affect some DB's certain ways because a lot of DB's like to play physical and it kind of takes away from the DB's game.

Andre,
What kind of pre-game rituals do you go through before game time on Sunday?
--Damon*

Damon,
I really don't have any pre-game ritual. My biggest thing before a game is just try to relax, watch a movie or something to just calm myself down and stay relaxed.

Andre,
As a football fan, I watch as many NFL games as possible. Do you ever watch NFL games just for fun anymore or do you only watch game films to learn?
--John

John,
I really don't get to watch football games very much. The only games I watch are the Monday Night Games. Most of the time I'm viewing game film to better myself.

Andre,
Out of all the past and present receivers in the league, which player do you most admire and/or model your game after? And why?
--Vinnie, Spring, TX
*
Vinnie,
The person I've always modeled myself after was Jerry Rice. He's always been the guy I looked up to. He's the best in the business and hopefully one day I can accomplish some of the things that he has.

Andre,
I was wondering how much communication there is between you and David Carr during a regular season pass route? Can you adjust to the playbook according to the way your defensive opponent reacts, or do you run the route in the book no matter what in order to remain consistent and avoid sloppy mistakes?
--Jeff

Jeff,
Dave and I communicate a lot. We just pretty much stick to the plays in the playbook. We don't really adjust things unless Dave sees something, a route that he'd like to run. Otherwise, we just stick to the plays in the playbook.

Andre,
Tell us how how well Dunta Robinson has been able to hang with you during practice. Are you impressed?
--Stephen, Birmingham, Ala.*
* *
Stephen,
Dunta is a tremendous talent and I think the team made a great pick in bringing him here. He's doing well in practice. He's young right now. I was in the same position last year and I had to learn and he's learning right now. But he's out there on the field doing some great things.