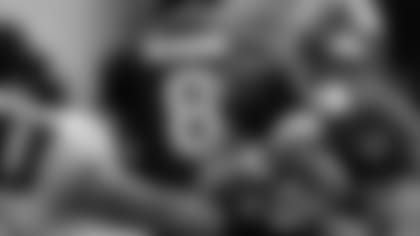 ]( "Arian Foster")

Texans running back Arian Foster has been off Twitter and largely off the radar this offseason. He has been busy training for what he views as a potential bounce-back year.
"I've just been relaxing," Foster said to FOX Sports Southwest's Patti Smith on Saturday at his youth football camp in Pearland. "I've just been relaxing and working really hard. I think this has probably (been) one of my most intense training offseasons I've had since I've been in the NFL. I just want to bounce back. I didn't feel like I had the best season last year."
Foster made his third consecutive Pro Bowl in 2012. He led the NFL in touchdowns (17) for the second time in three years and ranked second in the AFC in rushing yards (1,424).
Foster averaged 4.1 yards per carry, well below his career average of 4.7, but led the league with a career-high 351 carries. He also caught 40 passes for 217 yards, down from his 2010-11 averages of 60 catches and 611 receiving yards.
"I set a lot of personal goals, a lot of things that I do," Foster said. "I just didn't feel like I was at my best, and it's gonna change this year."
"(I've) just refocused and rededicated myself to another level, and hopefully it shows," Foster said. "I'm not traveling. I'm not doing a lot. I'm here in Houston and I'm training."
He didn't have much to say about the draft and said he hasn't even seen the Texans' schedule, but Foster did say he's happy about the addition of his new lead blocker, fullback Greg Jones, in free agency.
"Man, I was extremely thankful for that," Foster said. "He's been a veteran in this league for a long time, blocking for (Jacksonville Jaguars running back) Maurice Jones-Drew. He's just a big, physical specimen back there, and he's gonna help us out."
Twitter.com/NickScurfield