Texans running back Domanick Davis returned to practice Wednesday afternoon for his first full-speed workout in more than a week. He sprained an ankle Sept. 26 against Kansas City and was inactive in Sunday's game against the Raiders.

When the season started it was thought the Texans would be struggling if Davis, last season's 1,000-yard rusher, missed any significant playing time.
Now, his return to the field is more like an added bonus to a group of backs that put up the second-highest rushing total in team history in a 30-17 win over the Raiders.
The Texans (2-2) rushed for 162 yards on a team-record 40 carries against Oakland. Flashy numbers, yes, but the team has done a solid job running the football all season even with injuries to Davis and back ups Tony Hollings and Jonathan Wells.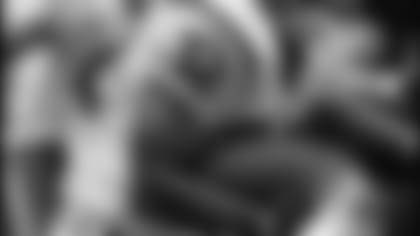 Wells rushed for a career-high 105 yards against the Raiders and Hollings was effective in relief. The Texans are averaging 115 rushing yards per game as a team (12th in the NFL), but turned heads around the league with a 7:33 second, 14-play drive against the Raiders that included nine running plays and plenty of broken wills on the opponents' sideline.
Offensive coordinator Chris Palmer quickly praised the offensive line when asked about the running game. The group has blocked for three different running backs in four games, with consistent success with no matter who is in the backfield.
"We're getting better," Texans right tackle Todd Wade said of the line's improvement. "You have to gain a sense of confidence in what you're doing with a scheme and everything. Now its time, we know what we're doing, to turn it up and be more aggressive and really go after people. It's gotten to a point where it's easier to do that."
Davis, Wells and Hollings are healthy for the first time all season giving the Texans formidable, but not totally unexpected, three-back attack.
"If we have all three backs healthy it gives the defense something to worry about," Hollings said. "There are a lot of things we can do with all three of us that can go out and make this offense effective.
The running back trio boasts very different talents. At 252 pounds Wells is the unquestioned bruiser of the bunch. Hollings has explosive speed while Davis' history as a return man at LSU speaks to his elusiveness.
Texans head coach Dom Capers said carries will be split between them. Keeping all three healthy will require such an even distribution.
"You'd like to split it up because this is a very difficult league, it's a very physical league and you have to be in a situation where you spread the load around," Palmer said. "I think there were only nine backs last year that averaged 20 carries or more. That's a major task."
Davis is still listed as the starter, but said he doesn't care how he gets into Sunday's game against the Minnesota Vikings. Wells said Wednesday determining a starter hasn't even been brought up as an issue.
"Whatever the team needs me to do," Davis said. "Just a little bit, a lot, whatever. If that's the situation, I'm cool with it. No problem at all."
The Vikings have the league's best offense and want to throw up as many points as possible. The Texans can stop that by holding onto – and running – the football. The Texans have proven effective at grinding the clock with short runs.
Houston is the only team in the league without a run for 25 or more yards.
Capers said Davis "got all the planned carries" in Thursday's practice but said he wanted to watch last season's Rookie of the Year on Friday before making significant decisions about his playing time.
"It's close to where I want it to be," Davis said of the injury.
At least history proves the team can get along fine without him and even better with him.
RETURNING HOME:Capers invited three American servicemen recently returned from Iraq to the Thursday afternoon practice.
The men, who all lost a leg in Iraq, spent time after practice talking with players and catching passes from Texans quarterbacks.
"We talk a lot about the commitment and sacrifice that it takes to play this game," Capers said. "Well these guys made an unbelievable sacrifice for all of us over in Iraq defending our country. To me it was inspiration to have them out here today with our football team."