While every player participating in Saturday's Dell East-West Shrine Game has found success at the collegiate level, Saturday represents much more than merely a reward for a solid collegiate career.
For some, it may represent the last time they will play competitive football, but for many, Saturday's tilt between amateur stars from all over the country, and the practices leading up to the game,  is a tryout for NFL scouts who have been at practice all week.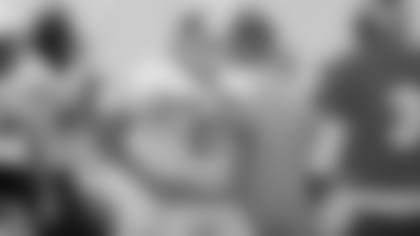 Two Houstonians, Jackie Battle from the
and Jarrett Hicks out of Texas Tech, are back in their hometown chasing that NFL dream this week and both find themselves fighting stereotypes.
defenses, ultimately producing a league championship and a Liberty Bowl birth.
ended his Cougar career with two rushing scores in the 44-36 loss, giving him 15 rushing touchdowns on the season.
's pedigree as a runner has been well established which is probably why he finds himself trying to show the scouts something else this week other than his running ability.
"I'm just trying to show that I can be a blocker,"
said. "That's one of the things I need to improve on and I have a great opportunity right here to do that."
will be playing fullback this week for the West squad, a new position and one that he was thrust into when practice began Monday.
"They kind of just threw me in there,"
said. "I just have to get it and go. It's the next level. I like it, that's how it's going to be."
has embraced the opportunity, seeing it as an opportunity to remove some doubts about his style of play.
"They (the scouts) know I can run, now I need to show them I can block,"
said. "I'm going to line up at fullback this week and hopefully show people I can do it."
thinks the move has paid off.
"I think I'm doing pretty good," he said. "They doubted my aggression and lining me up at fullback is a great opportunity for me."
For Hicks, it won't be a position change that he will need to overcome Saturday. Instead he'll being trying to remove the label- "product of a system".
Hicks burst onto the national scene as just a sophomore in 2004, setting the Texas Tech school record for receiving touchdowns in a season with 13.
For his career Hicks hauled in 30 touchdowns, also a Red Raider record, yet still can't escape the stigma of being a product of Tech coach Mike Leach's high octane offense.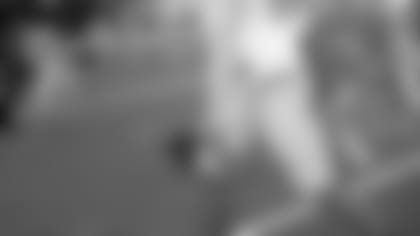 Leach puts a premium on points in
and his offensive players usually bear the fruit of that belief with impressive statistics, yet few have come close to equaling that success at the NFL level.
Hicks knows that he's got something to prove this week to scouts while performing in his hometown.
"I definitely think we get that rap," Hicks said. "This week, I'm just trying to make a point that I'm not just a system receiver, to make that known."
Hicks could be a first day draftee, meaning he might go in the first three rounds of April's NFL Draft. With an impressive showing this week, his stock could rise, with a poor effort, it could plummet.
With all that's on the line, one would think that Hicks might be a bit nervous, especially since he's operating outside of his "system" and with a new quarterback. Somewhat surprisingly, with so much on the line, he's taking it all in stride.
"It's not too much pressure," Hicks said. "They're (the quarterbacks) out here trying to get a job too. I'm fine with it and I'm just going to adjust on the run."
Hicks' goal this week is much like
's, and is, according to Hicks, the likely goal of every player suiting up this weekend.
"Pretty much to just show that I can play," Hicks said. "I think that's what all of us are doing here. I'm just trying to catch the eye of someone that wants me and that will take me in April."
and Hicks erase those preconceived notions about them this week, they'll have plenty of friends and family to watch them do it.
"It's like a home game for me, just like playing at (the University of Houston),"
said of playing in the Shrine Game. "I have a lot of friends and family coming out."
For Hicks, any time in Houston is fine with him after matriculating in
"It's definitely good for me to be back here at home in
," Hicks said. "We didn't play too much down here when I was in college. I'm happy to be home, regardless, but to have a game down here and to be out here in front of all of these scouts is definitely a wonderful time for me."
How wonderful a time both these players have probably won't ultimately be determined until late April.