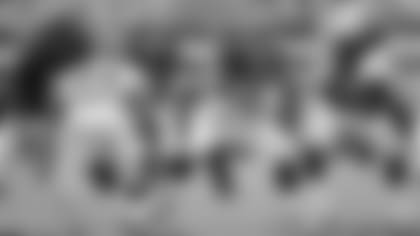 The offseason is as a time for vacation and relaxation for a lot of NFL players, but Ben Jones isn't one of them.
The 2012 rookie center-turned-right-guard is enrolled in spring semester classes at University of Georgia, with plans to obtain his degree in May.
"I think the quicker you go back, the more likely you're able to go back," Jones said Tuesday on Texans All Access. "I know a lot of people keep putting it off year to year, so that was my goal: To go ahead and try to knock it out when I came back."
Jones is taking 10 credit hours with classes Monday, Wednesday, Friday and a lab on Tuesday. The Texans' 2012 Rookie of the Year, who was a team captain and four-year starting center at Georgia, puts in another 10 hours a week at the football office. On top of his academic schedule, he alternates between weightlifting and speed and agility training five days a week.
"My day really consists of waking up early, working out, class and working around the football office," Jones said. "It definitely took some getting used to because all the old guys I used to hang out with are either leaving for the Combine or already gone. So, it's a lot of new faces around the athletic department."
Among all the fresh-faced students, Jones, 23, admitted to feeling a little like the "old man" on campus.
"The guys give me a hard time," he said with a laugh. "They're like, 'Man, when were you born?' Some of them were born in '94 and I'm like, 'Oh, man, I was in kindergarten, I think.'"