It's no secret who runs the offensive show in
, Tom Brady has already established himself as one of the all-time greats in NFL history. Consider the following:
Brady entered the 2006 season with a record of 68-21 (.764) in regular-season and playoff games. That's the best record of any NFL quarterback in the Super Bowl Era (since 1966) with at least 40 career starts.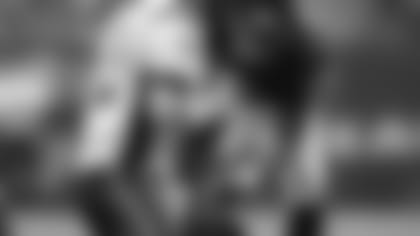 Brady is the only quarterback in NFL history to start and win three Super Bowls before his 28th birthday and just the fourth quarterback to lead his team to three or more Super Bowl wins.
Brady owns two Pete Rozelle Awards as Super Bowl MVP (XXXVI and XXXVIII). He is just the fourth player in Super Bowl history to earn multiple MVP awards, joining Joe Montana, Terry Bradshaw and Bart Starr, all three of whom are enshrined in the Pro Football Hall of Fame.
And at just 29 years of age now, it's probably safe to say that he's not done filling his trophy case yet, probably not by a long shot. At 9-4, New England and its signal caller are on the short list of teams that could end up in
in February representing the AFC in the Super Bowl.
Texans' defensive coordinator Richard Smith knows that his defense will have its hands full this week with one of the best quarterbacks in NFL history.
"There's no doubt in our mind that Brady is one of the top quarterbacks in the National Football League and probably one of the top quarterbacks to ever play the game," Smith said. "He's smart, he's intelligent, he runs their whole offense."
And the Texans are catching Brady and the Patriots at a bad time. New England was shutout Sunday in
against the Dolphins. It was the first time that the Patriots failed to score any points since 2003.
As for Brady, he threw for just 78 yards, marking only the fourth time in his career that he has failed to reach the century mark through the air. It seems unlikely that the Texans can expect a repeat performance this week.
"What happened last week doesn't matter, Brady's a competitor," Smith said. "He performs every week and that team functions when Brady functions and last week was an unfortunate situation for that football team, but that doesn't have any bearing on our game. Whether they won or lost last week, he plays the same every week. He's accurate with the ball, he's smart and he controls the offense."
Talking to the Texans players, there's a respect for Brady that few command. DeMeco Ryans,
's rookie linebacker and the heart of the Texans' defense, said that it will be strange to go against a player that he's been watching on TV in big games for quite some time. But it's not something that's going to keep Ryans from doing his job.
"It's going to weird to step out there and go against him," Ryans said of facing Brady. "Super Bowl MVP, watching him for those all years. It's going to be weird, but once I'm out on the field it's just another guy with the wrong jersey on."
's secondary will probably be tested Sunday. The Patriots like to spread the field and let Brady dictate what they do offensively. It's something that
"He definitely runs the show," safety Glenn Earl said. "The whole offense is kind of geared through him and him identifying the defense and putting them in the right play. We definitely have our hands full because you have a guy, like Peyton Manning, who definitely makes you work out there. You have to be on top of things."
Safety C.C. Brown, who may not play Sunday due to a foot injury, said that if the Texans are able to contain Brady, they should be able to contain the Patriots' offense.
"He controls their offense and if you can control him, you have a good shot of beating them," Brown said.
Cornerback Demarcus Faggins will likely find himself in Brady's crosshairs Sunday. With
's multiple receiver sets, Faggins said that pressuring Brady will be a key come Sunday.
"Any time you go into game, we're banking on that style," Faggins said of pressuring Brady. "We're banking on that pressure of our line because that always rattles quarterbacks and that always helps us on the back end."
Brady isn't exactly a rookie and won't be easily rattled. However, the Dolphins constant pressure on Brady was one key to their victory on Sunday. But if there's one rule in the NFL, it's to expect the unexpected.
"On Sunday anything is bound to happen," Brown said. "I'm assuming (Brady) had an off game on Sunday, whatever it was, hopefully, we can go out there and do the same thing. I expect the best out of their whole team, not just him. I'm just going to go out there and play hard."