Place kicking in the NFL is not for the faint of heart. Perhaps the most scrutinized position on the field other than quarterback, a team's place kicker is in a position to win or lose a game almost on a weekly basis.
The hero or the goat, that's the life of an NFL place kicker and it's one all too familiar to Texans kicker Kris Brown. After starting the season a perfect five-of-five on field goals, Brown missed his first attempt in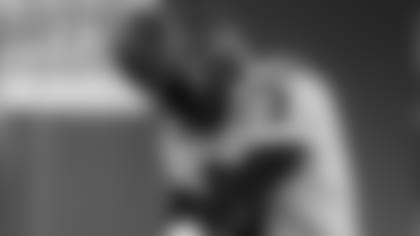 He recovered to make the next three improving to eight-of-nine on the season, but things haven't gone quite as smoothly lately.
Brown's hit on just three of his last six attempts, including two misses Sunday in
. The misses, ultimately, were meaningless, but Brown's struggles prompted a surprising response by Gary Kubiak Monday when he was asked if the Texans would be searching for another kicker.
"Well, it's a concern because Kris has missed a few kicks in the past few weeks, and they have been some big kicks," Kubiak said of his kicking game. "And we have got to get that better. We've got to get that done. And nobody knows that more than Kris."
It was a surprising revelation from
's first-year coach. After all, Brown is the only kicker the Texans have known since joining the NFL prior to the 2002 season. Before the 2006 season, Brown had accounted for nearly a third of Texans' points all-time.
Kubiak's statement was one that hit home for Brown, but at the same time, he also took it in stride.
"It's something that you think about, but that's the nature of this business," Brown said of Kubiak's comments. "When you realize that you're going to play in the NFL, you have a responsibility to help this team win games and if you're not doing it, they're going to find someone who does.
"If I'm not pulling my fair share, certainly they're going to find someone to do it. I just need to go out there and do what I've been doing for this organization for a while and continue to prove to guys in this locker room and the coaching staff that I can get the job done."
One teammate that Brown doesn't have to prove anything to is long snapper Bryan Pittman. Pittman is now in his fourth season working with Brown and doesn't doubt that the veteran kicker will recover from a couple bad breaks of late.
"Every skilled player that has a primary job like kicking, punting and long snapping goes through troubles some times," Pittman said. "The thing about it is you just have to believe you're going to get better and get back on track and I have no doubt that Kris will be able to do that."
One of Brown's three misses of late was a 52-yard attempt in
. In a sign that Brown's miscues recently are going to pass quickly, this particular attempt hit the right post, but was struck firmly and easily would have traveled 60 yards had it been a foot to the left.
Pittman, among others Sunday, thought the kick was good.
"It was straight," Pittman said. "It was just unfortunate that it drilled the post. I thought it was good from the moment he left the leg, but it just hit the post. You just have to move on and learn from it."
Pittman wasn't alone in believing that the kick looked good from the start.
"When it left my foot I had no question that it was going to be a good kick," Brown said. "It stayed right where it started and unfortunately, it hit the upright. It was just one of those kicks that didn't go in. That's the only bad thing I can say about that kick is that it didn't go in."
That attempt followed perhaps Brown's worst kick of the season. From 32 yards out, he pulled one badly, failing to even tease the uprights.
"You know I just didn't get through the ball," Brown said. "It's just one of those things. I just didn't get through the football. That's the thing about this league and playing this position, you've got to be accountable every single day and be somebody the team can count on." ](http://store.houstontexans.com/family/index.jsp?categoryId=2237490&clickid=mainnavgeartxt)Brown recovered to hit the eventual game winner from 28 yards in what was probably a sign of what's ahead for the Texans all-time leading scorer.
Another sign is Brown's proficiency on kickoffs so far this year.
ranks first in the NFL in kickoffs with the opposition, on the average, beginning their drives at about their own 22-yard line.
Brown has eight touchbacks already and is well on his way to breaking his career mark in that department which is 11, achieved last season. It's something that Brown takes more pride in than some may think.
"That's part of what I do," Brown said. "Obviously, I put points on the board and that's the part that everybody sees, but nobody really pays attention to me kicking the ball off and that's part of my job. I think field position is a stat that most people don't look at."
defense coming to town Sunday, Brown could be a key player in this weekend's matchup with the Bills. If he is, Texans fans should have every confidence that Brown will come through in the clutch, like so many times before. Just take his word for it.
"I"ve been doing this for a long time now," Brown said with a smile. "I didn't forget how to kick over night."