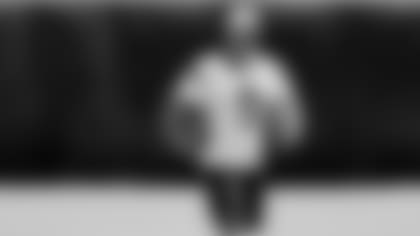 *At the conclusion of June's minicamp, HoustonTexans.com huddled with the team's position coaches to get their respective thoughts on the projected starters. This is the ninth 'Coaches Commentary' in a series of articles that will go through the roster, position by position.
Special teams coordinator Joe Marciano enters his 12th season on the job with a new punter and kicker. Shane Lechler takes over for Donnie Jones as the team's punter, and he brings a sterling resume with him after spending over a decade with the Oakland Raiders. Meanwhile, Randy Bullock spent 2012 on the Injured Reserve, and he's tabbed as the starter after the departure of veteran Shayne Graham. As he's done since 2010, Jon Weeks will handle the long snapper duties. What follows are Marciano's thoughts on those three specialists.
P Shane Lechler6-time All ProCareer average of 47.5 yds/punt (1st in NFL History)
"I'm excited to have Shane with us. I've coached against him a long time, watched him punt a long time and there's no doubt he's one of the top five punters in the league for the last five years.
He's very athletic, and he knows the mechanics of the punts. If he has a breakdown, he knows what part to fix. He's very knowledgeable, very experienced and a pretty good holder. When you talk about leg strength, there's two ways to measure, distance and hang. He can do both. He can hit them 60 yards in over five seconds and he's capable of hitting them longer.
I think he can punt for any situation and for whatever it takes. If it's going to make a guy run for it or hang it high for a fair catch, he's very knowledgeable in punting and he's certainly knowledgeable in situational punting."
K Randy Bullock2011 Lou Groza Award winner at Texas A&MSpent 2012 on IR with groin injury
"Randy's really excited about coming back, probably too excited. I gotta keep a "kick" count on the guy so he doesn't over kick. Last year as a redshirt season was very beneficial for him. He worked with the trainers, working his core and flexibility. His leg strength and body shape is better.
He's learned a lot from last year just watching other kickers come into our stadium, and he's figured out that everybody has a little different style or uniqueness to them. He's just got to be him. He's got some mental toughness and all the positive attributes when it comes to that.
It's just a matter of him coming out and trusting his line, trusting his technique and making all his kicks. And I expect him to."
LS Jon WeeksPlayed in 48 career games with Texans
"If you surveyed a sold out stadium and asked who our long snapper is, only a handful of people would know. That's how good Jon is.
You take it for granted that Jon's gonna put that ball there so we can get a punt off, a field goal off where there's no NFL bloopers on the snap, hold, or kick. That's not Jon. It seems like when the snapper does do something where the ball doesn't get off, that's when they know who he is. Jon's been under the radar and we like it that way.
We found Jon at a scouting combine in Phoenix and he was outstanding. I've seen a lot of players snap footballs but Jon was really, really good and when I watched the tape I knew."