INDIANAPOLIS - Was it symbolic that the two people that spoke at the podium Friday before Brady Quinn were Browns head coach Romeo Crennel and Browns general manager Phil Savage?
Quinn has been rumored to be a possibility to the Browns at the third overall pick (
and will select ahead of them in the first round).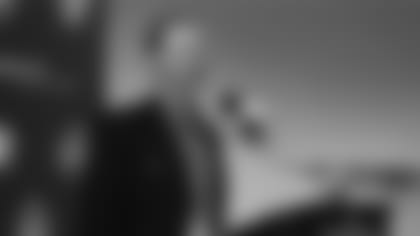 Crennel has been part of a team that has had success with a quarterback named Brady, so it would seem to be a good fit. The Browns, like most teams this time of year, aren't saying one way or another, but what I found interesting Friday is that Quinn didn't seem to be campaigning to land in
Ohio, said he really doesn't have a preference to which city he is drafted to, though he did say his goal as always has been to go number one.
"I think economically it would be good since they won the coin toss today and they're in the third spot," Quinn said of possibly being selected by the Browns. "But that's where it stops. I'm not biased in any way toward any team because of where I live. Whatever team I end up going to play for, I'm going to be happy playing there."
I shot a look over to Savage, who I knew had stayed in the room after his media session at the podium. There was no reaction, though you could tell he was hanging on every word from the well-spoken signal-caller.
I was impressed by Quinn on Friday. He's bigger in person than I thought he would be, and you got a sense that he was, all in all, a pretty decent guy. He was one of the last players to come through the media room on Friday afternoon.
This is my first time covering the combine and I'm probably not alone. More media are here in Indy this weekend than players. A decade ago, there were maybe two dozen reporters. This weekend there are hundreds.
By the time they reach the media area, the players are pretty much spent. They've been measured and re-measured all day, physically and mentally. But you can tell that many have been coached on how to deal with the media.
When I arrived here Friday, the NFL Network was right in the middle of their live broadcast right outside where the media are stationed, which only adds to the media frenzy.
Tomorrow, the real fun begins as fans at home can tune in to the workouts taking place on the turf at the RCA Dome on the NFL Network.
I'm looking forward to seeing some of that. Kickers, punters, offensive linemen and tight ends work out tomorrow, with Sunday being the premiere day of quarterbacks, wide receivers and running backs.
Defensive linemen will be available to the media Saturday and workout on Monday.
After being at the Senior Bowl this year in
with the entire NFL gathered in one city. It's not.
There's some people in Indy that don't even know the combine is going on and you can walk down the street without running into someone wearing NFL apparel. Once in one of the surrounding hotels, everything the combine has to offer is within walking distance.
At the Senior Bowl, practices were at least a 10-minute drive from most team hotels, but you always managed to see someone in town from the Senior Bowl. I can't remember how many times I ended up following Larry Coker back from practice in
. That's not the case here. That said, I did have one brush with NFL royalty today.
I was having dinner with John McClain and Megan Manfull of the Houston Chronicle at the hotel restaurant. Actually, they were eating dinner and I was just enjoying some good football conversation. (I had eaten earlier with Texans director of media relations Kevin Cooper). Who should walk by our table but Tony Dungy, head coach of the World Champion Indianapolis Colts.
especially a stone's throw from the RCA Dome, is not exactly a solar eclipse. But considering that most NFL personnel were speaking with players a few blocks away, I found it odd that we were fortunate enough to see Dungy.
McClain, who knows everyone, was nice enough to introduce Manfull and myself to Dungy, who chatted for a few minutes before moving on.
Though the Colts are a division rival, it was nice to shake Dungy's hand and congratulate him on the Super Bowl win. Something that McClain said to him stuck with me.
He said to Dungy: "It's nice to see that you can win with good people."
That immediately made me think of the Texans. You can say a lot of things about how the team has performed over the first five years in franchise history, but you can't say the organization is not full of good people. 
After being reminded Friday that it is possible to win the right way by the brief encounter with Dungy, it only reassured me that
is headed for big things in the near future.
This weekend could go a long way in deciding how big.