Even with their biggest division rival in town, the Texans appeared to hit the snooze button like so many of us do on Thanksgiving Weekend. Lucky for Houston, there was plenty of time to recover.

And the Texans did just that. After spotting Tennessee a 21-3 lead in the second quarter, Houston scored four consecutive touchdowns to defeat the Titans 31-21 Sunday before 70,721 at Reliant Stadium.

The win moved the Texans to 5-6 overall and 3-1 in the AFC South. In the process, Houston snapped a three-game losing streak and swept a division rival for the first time. The Texans' 31 points set a team record. Tennessee fell to 4-7.

"I'm proud of our football team," head coach Dom Capers said. "I like the attitude, effort and determination of our team today.  The true mark of man, to me, is one who battles back from adversity."

Quarterback David Carr threw for 201 yards and two touchdown passes, the second an 11-yarder to wide receiver Andre Johnson that gave the Texans their first lead. Running back Domanick Davis ran for 129 yards and one score, a 41-yarder that put the game away. And Houston's defense snagged two crucial turnovers in the final quarter, recovering a fumble by Titans quarterback Steve McNair and later intercepting him.

"When you have a quarterback like Steve McNair, he's going to make his share of plays," Capers said. "You just have to stay to course, continue to battle and try to get the momentum turned around. This is such a game of momentum. We felt that if we could get the momentum turned back in our favor, we'd have a chance and that's what we were able to do."

Davis also led all Texans receivers with seven catches for 52 yards. He averaged 8.1 yards per carry after entering the game with an average of just three yards per tote. And Davis did it against a defense that rarely allows 100-yard rushers (Insider).

"There was too much talk in the air about our running game," Davis said. "I'm feeling good, the line is feeling great and they're doing a good job and making my job much easier. I'm not sure (why today was different). I've had some nicks and bruises that slowed me down a bit, but now I'm healthy and I'm back."

Johnson had four catches for 34 yards and his fifth score of the season. Tight end Billy Miller had his first touchdown reception in over a year. Rookie cornerback Dunta Robinson and rookie linebacker Jason Babin each led the Texans with nine tackles.

McNair threw for three touchdowns in staking Tennessee to its big lead. But he fumbled early in the fourth quarter and threw an interception to safety Marlon McCree late in the fourth quarter that ultimately sealed the loss.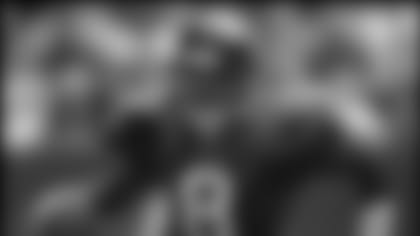 The Titans got the ball first and immediately got into a rhythm offensively. McNair completed his first three passes and running back Antowain Smith gained 29 yards on his first three carries as Tennessee reached the Texans 14 in just six plays.

Two plays later, McNair lofted a 12-yard scoring toss to tight end Erron Kinney and just 4:47 into the game the Titans had a 7-0 lead.

And two plays into Houston's initial drive, the Titans got the ball right back. Carr overshot wide receiver Jabar Gaffney on 2nd and 5 and Titans safety Scott McGarrahan made a diving interception, returning the ball to the Texans 42.

McNair went back to work, converting a third down with a 14-yard pass to tight end Shad Meier before finding Kinney again, this time for an 11-yard touchdown. Just like that the Texans were in a 14-0 hole. Kinney had doubled his touchdown total from the previous 10 games of the season.

The Texans got their sea legs on their second drive, thanks to Davis, who rumbled a season-long 27 yards to the Titans 44. Carr then completed a six-yard pass to Johnson before scrambling four yards for another first down. After firing an 11-yard pass to wide receiver Corey Bradford, Carr had his team in the red zone.

But the drive stalled at the 11-yard line. Houston settled for a 29-yard field goal by Kris Brown to cut the lead to 14-3.

Houston's defense finally held, permitting one first down before the Titans were forced to punt from their 43. The Texans took over at their 10-yard line. But on the first snap, Carr dropped back and was buried by Titans defensive tackle Randy Starks in the end zone. Or so it appeared. Referee Larry Nemmers placed the ball at the one-yard line. Titans head coach Jeff Fisher challenged the spot but the call was upheld.

The Texans still couldn't move the ball forward and Chad Stanley was forced to punt from the back of his end zone. He skied one high and far but the Titans got the ball in good shape at the Texans 40.

Three plays later, McNair fired the ball downfield to wide receiver Drew Bennett. Robinson was flagged for a 16-yard pass interference penalty, moving the ball to the four-yard line, where McNair found wide receiver Derrick Mason for his third scoring toss of the day.

The Texans bounced right back, using Davis in both the run and pass game. His 15-yard scamper around the left end gave Houston a first down at the Titans 16. Jonathan Wells then came in for Davis and caught a nine-yard pass from Carr. On the next snap, Wells raced untouched into the end zone from seven yards out to cut the lead again to 11 points.

Davis accounted for 34 of Houston's 62 yards on the scoring drive.

The Titans were stymied on their next drive, thanks to the crowd and Meier's temper. After getting whistled for a false start, McNair dodged linebacker Jason Babin and completed a pass to Meier, who was flagged 15 yards for taunting. Tennessee punted and the Texans took over at their 29 with 2:27 left in the half.

Carr hit Johnson for 11 yards to take it to the two-minute warning. He then found wide receiver Derick Armstrong for a 20-yard gain to the Titans 40. But a sack on third down resulted in a 4th and 10. Carr took Houston's final timeout and then hit Miller for 11 yards. After Carr scrambled out of bounds for six yards, Brown came in to attempt a 41-yard field goal. But McGarrahan blocked it and the Titans preserved their 21-10 lead.

The Texans got the ball to start the second half. After Davis picked up a first down, Carr found Bradford in the middle of the field for a 17-yard gain into Titans territory. Davis' fourth reception of the game netted another first down and the Texans were in business at the Titans 20.

On 3rd and 4, Carr rolled right to buy some time and fired a strike to Miller in the back of the end zone. The 14-yard score was Miller's first touchdown since Houston's game against New England last season (11/23/03). The Texans had sliced the lead to 21-17.

"Billy's theory is that when he catches the ball, we win," Carr said. "So, now, it's going to be that if he catches more than three balls and a touchdown, then we win. He's always wanting to get the ball, and I'm always wanting to give it to him.

"We had some plays, in this week, where we could take advantage of some of the things that