EDITOR'S NOTE:This article is reprinted from the Texans Gameday Magazine against the Pittsburgh Steelers on Sept. 18, 2005.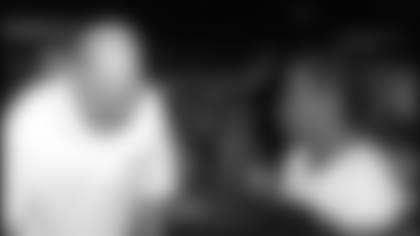 It's been almost three weeks since Hurricane Katrina blew over the Gulf Coast area, and nowhere outside that region is the aftermath felt more than in Houston, where thousands of displaced residents from Louisiana and Mississippi have sought refuge as they put the pieces of their life back together.
Next door to Reliant Stadium, where the Texans' office and training facility is located, the Astrodome, Reliant Center and Reliant Arena houses approximately 25,000 people, including many families and elderly, who have been forced to start over in the Lone Star State ( Each day, Texans players, coaches and front office staff are reminded of the tragedy when they drive by the multitude of people that now call "Reliant City" home ( "It's sad," defensive end Gary Walker said. "I don't know the correct words to describe it."
The Texans players and coaches first encountered the activity around Reliant Park when they returned from their final preseason game against the Tampa Bay Buccaneers just before dawn on Friday, Sept. 2.
Even at 2 a.m., the backup of traffic from volunteers stretched from the McNee Street stadium entrance to the feeder road of the 610 freeway, and it hasn't stopped since. The support has created congestion around the stadium, causing for a few minor adjustments, but the players and coaches realize it's a small price to pay.
"That's the least of my worries," Walker said. "You have people over here that are trying to survive. That's more important than traffic. We're can't sit here and be concerned about little stuff. Some people over there have a lot more to worry about."
While every member of the Texans has been affected by the hurricane at least indirectly, there are several players that only recently tracked down relatives that escaped the damaged areas.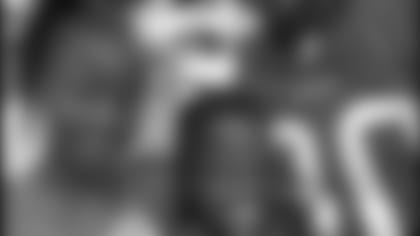 Wide receiver Donovan Morgan, a member of the Texans' practice squad, observed the storm closely as his family remained in East New Orleans, which was among the areas hardest hit by flooding.
On Friday, four days after the hurricane struck, eight members of Morgan's family were rescued by boat from the third floor of their water-logged house and taken to the New Orleans Convention Center.
For three days, the family bided their time in unsanitary conditions with no place to rest—the floor was filthy and saturated—little food and chaos surrounding them. On Sunday, they were among the fortunate few that boarded buses leaving the area, even though they waited nine hours before departing.
"They were about to take my mom to Oklahoma," Morgan said. "And my mom was like, 'Why Oklahoma, my son is already in Texas?' They said that was the right place to go."
The Texans' director of player development, Marcus Heard, relayed Morgan's story to Ryan Reichert, the team's director of security. A few phone calls later, Reichert discovered the bus was destined for Camp Gruber, an Army base near Muskogee, Okla., about an hour southeast of Tulsa. They would arrive on Sunday.
Quickly, general manager Charley Casserly arranged for Reichert and Alex Rust, the Texans' college scouting intern, to take a 7:50 p.m. flight from Houston to Tulsa. Upon touching down, they rented two vans and headed to the rural town.
"I expected a lot of people, so I wore a red Texans shirt, just so they would notice me," Reichert said.
It didn't take long for Morgan's mother to recognize a friendly face. Tearing up, she hugged Reichert and said it was the first time she'd felt human in days. After picking up the group's few belongings, Reichert and Rust drove the relieved and exhausted family to Houston, where they arrived at 7 a.m. on Monday, Sept. 5.
"It's a blessing to know that your family is all right and here with you safe and sound and I can provide for them," Morgan said. "Everything is a wreck out there. They have to start all over, basically. But they're safe, and that's the good part."
Morgan was only one of many players that had family in the path of the hurricane. Running back Jonathan Wells, who grew up within a few miles of the New Orleans Superdome, currently has family staying with him, while running back Domanick Davis, from Breaux Bridge, La., also is hosting family members.
Though their stories have happy endings, the players know that many others don't have the same resources to rebound from the wreckage. To help those less fortunate, they've banded together with teammates to raise money and help get people back on their feet.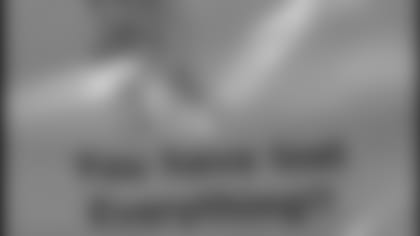 "We're going to do everything we can," free safety Marcus Coleman said. "I know Jonathan Wells and Domanick are having a food drive sometime in the future. We're all going to try to get together and do some things. Everybody is going to be pitching in. We're going to do as much as we can."
Calamitous events certainly put sports in their proper place, and the players and coaches don't have to venture far to get a dose of reality. Amidst the events of the past 21 days, the team indeed has gained a new perspective. Based on the thousands of volunteers and the tons of donated items, many players and coaches have a new appreciation for the heart and compassion of this city's residents. Head coach Dom Capers, for one, cannot think of any other time he has been more proud to represent Houston.
"It's hard to fathom and relate to the traumatic experience that these people have gone through and having almost everything taken away from them," Capers said. "I just think that what this city has done to try to help them through this transitional period is tremendous."