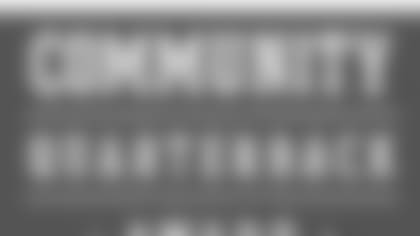 HOUSTON – **The Houston Texans Foundation is pleased to announce the kick-off of the 2006 NFL Community Quarterback Award.
The program recognizes outstanding volunteers in all NFL cities and has awarded over $1 million to various charity organizations over the past years. The program honors individuals with exemplary leadership, dedication, and commitment to improving their community.
Individuals age 13 and over who volunteer for nonprofit organizations in Houston are eligible. Five finalists will be selected to receive $1000 each for their respective nonprofit organization. One overall winner will be awarded $5000. A recognition ceremony will be held at the United Way building on Wednesday December 13, 2006 from 5:30 pm to 7 pm. The winners will also be recognized in the Hometown Heroes Day ceremony at Reliant Stadium before the Houston Texans vs. Indianapolis Colts game on December 24, 2006 at noon.
Candidates can download an application form here. All applications must be postmarked no later than October 27, 2006 to the Houston Texans Foundation. Winners will be notified of their awards on November 13, 2006.
For more information, call Joanie Haley at the Houston Texans Foundation at 832.667.2014.