There's a lot on the Texans plate this week. It's the regular season debut of their head coach and his new offense, the home opener, and the debut of a revamped 4-3 defense. Those are just a few of the challenges facing
this week, but here's another: containing Eagles' quarterback Donovan McNabb.
McNabb, one of the leagues' premier signal-callers makes his first trip to
this week. Sidelined late last season, speculation around the NFL was that the most successful quarterback in Philadelphia history was on the downside of his career. The numbers suggest otherwise.
McNabb was his old self to start the 2005 season. Despite a constant struggle with his best receiver (Terrell Owen), McNabb ranked first in the NFL in attempts (357), second in completions (211) and passing yards (2,507), and tied for third in passing touchdowns (16) before re-aggravating a sports-hernia injury against the Dallas Cowboys in mid-November.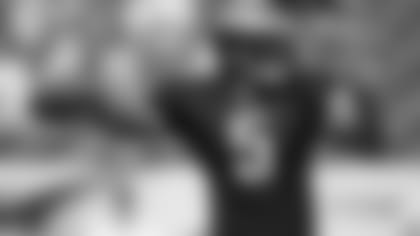 McNabb said he was healthy entering training camp this season and there was no evidence to suggest otherwise this preseason. McNabb completed 23 of 31 passes and had a passer rating of over 112, all while displaying the type of mobility that has made him the top duel-threat quarterback in the NFL for most of his career.
The Texans are well aware of the challenges that face them Sunday when McNabb and the Eagles enter Reliant Stadium
"There dangerous," defensive tackle Seth Payne said of the Eagles. "When you watch them on film, between Westbrook, McNabb and all of their other weapons, they'll turn a shovel pass into an 80-yard touchdown at any time."
Payne also doesn't buy into the notion that McNabb is less dangerous than he was a few years ago.
"The thing about him is people say he doesn't run as much, but he's a smart runner," Payne said. "He runs to avoid the sack and waits for guys to come open. You have to be very disciplined in your rush, especially the two inside guys because he tends to slip up the middle of the pocket and then slide out. He's not like most guys that will slip around the defensive end. We have to get some push up the middle and not let him slip out."
While Payne will be focused on containing the middle Sunday, Antwan Peek will help control the ends. Peek agrees that McNabb's favorite move is up the middle and said that the Texans' defensive ends will have to have a controlled pass rush Sunday.
"The thing about him being mobile is that he likes to scramble up the middle," Peek said. "It's not like he scrambles all over the place so we have to have really strong rush lanes. That's real important when you're trying to contain him."
Peek's strength is attacking the quarterback. He excels in pursuit of more traditional passers, but Payne said the focus this week will be having a controlled pursuit and that can sometimes be challenging.
"It's tricky," Payne said. "It's more of a mindset and preparing yourself for the way you rush then anything else. Sometimes you'll get a quarterback where the defensive ends don't have to worry about containing and the defensive linemen don't have to be as concerned about playing their gaps, but with a guy like McNabb, you do have to worry about rushing in your gap because that's where he kills you."
But don't look for Peek to change his attacking style for long.
"That's just something you have to focus on this week because his favorite rush lane is right up the middle," Peek said. "There will be a lot of focus on keeping that pocket tight."
For other Texans defenders, the opportunity to play against McNabb is more than just a physical challenge. 
"It's an honor and a feat," defensive tackle Travis Johnson said. "You've been watching him forever and now you get to be on the same field as him, that's special."
Texans defensive coordinator Richard Smith probably wouldn't classify this week's matchup with the Eagles as "special". Unlike the defensive line in passing situations, Smith has to be worried about the entire Eagles offense, not just their quarterback.
"It's not just McNabb, they have a really good football team," Smith said. "He's got a big line in front of him, very strong and powerful, and they have an outstanding system. Also, they have a great running attack and a passing attack that features the running back as their biggest threat. It's going to be a great challenge for us to be able to slow them down."
McNabb entered the league fighting the notion that all he could do well was run. He's clearly dispelled that myth after four trips to the NFC Championship Game and a Super Bowl appearance.
"This guy is a thrower, that's what makes him dangerous," Smith said. "He's a crafty, Pro Bowl quarterback with a strong arm. He's smart, reads coverages well and on top of that he has the ability to run, but I don't think of him as a runner, I think of him as a thrower."
Stopping the Eagles ultimate weapon on the ground and in the air will be at the top of
's to do list as they search for their first regular season win of the Gary Kubiak era.