 Just over 100 lucky fans made their way to
at Reliant Stadium early Wednesday morning for a chance to be the first fan to purchase single-game tickets to Texans games this season. The lucky fans entered a drawing on HoustonTexans.com and were selected from a pool of over 1,000 entries.
One fan was selected first, but there were no losers Wednesday as every fan in attendance had the opportunity to purchase tickets before they went on sale to the general public at 10 a.m.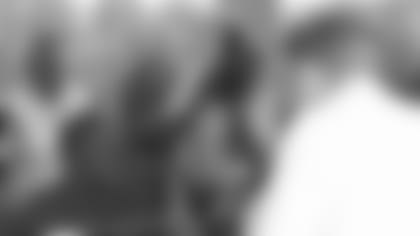 swung open at 7:00 a.m. and fans were treated to breakfast as they registered for the drawing. The "Voice of the Texans", Marc Vandermeer was on hand and gave away some great prizes. Fans walked away with Texans' gift packs, autographed memorabilia and training camp tickets before Vandermeer brought defensive tackle Seth Payne and wide receiver Eric Moulds to the stage. Payne, one of the few remaining Texans from the inaugural season, was quick to thank the fans for their support.
"The one thing that's been most consistent with this franchise the past five years has been our fan support," Payne said. "I've been in the NFL for 10 years and we have some of the best fans in the league here in
and you guys are the crème de le crème, you're out here at seven in the morning."
Moulds followed Payne on stage and assured fans that the 2006 season would not be a repeat of 2005. Moulds has been one of the premier receivers in the NFL for the past decade and put fans at ease who think that he might be slowing down. When Vandermeer suggested that the combination of Moulds and Andre Johnson might be one of the best duos in the NFL this season, Moulds quickly set him straight.
"We will be one of the best duos in the league," he said emphatically.
Following player introductions, one fan was selected to win an autographed helmet from Moulds and Payne and have their picture taken with the players as well as TORO and Texans Cheerleaders who were also in attendance.
Payne then selected the winning number of the fan who would be first in line. Colin Ross, with number 57, was the winner and got to be first in line to buy tickets. Ross, an import from
a little over a year ago and started getting into Texans games late last season.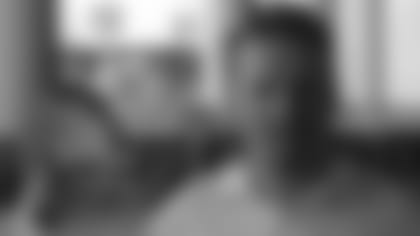 for a little while," he said. "This is a new deal for me, but I'm excited about it. I think the team is looking really good for this season. I'm really looking forward to watching these guys win some games."
Not surprisingly, Ross is a huge soccer fan. He said he got to see some American football in
, but not to the degree he can see it here.
"You get it from time to time, but not the type of coverage you get here. American football is high energy. I like the tactics of it, it's a lot of fun."
As Ross waited to approach the window, he already knew which games he wanted tickets to, no matter the location in the stadium.
"It's all about the Titans," he said. "It's going to be good to see the old rivalry. I'm also getting some for
, it's going to be good to see those guys as well."
When the window opened, Ross requested his tickets from Moulds. Both he and Payne took posts in the ticket office after rallying the crowd on the plaza just minutes before. Ross appreciated the players' effort to be out interacting with fans on a hot, steamy morning.
"Hey, it's 7:30 in the morning. Any player that's willing to get up early and do this, I appreciate it."
With tickets in hand, Ross made the trek to Texas City to start his work day like many of the other fans that turned out early Wednesday to be the first to get tickets to individual games this season.