With David Carr ranking among the top quarterbacks in the NFL and Andre Johnson as one of the top receivers early in the season, the Texans' offense appears to be on track for a good showing in
The defense, however, has had its' struggles and will be looking to build on its' best performance of the season against the Miami Dolphins. That might be easier said then done this week as the Cowboys enter the game with the fifth-ranked offense in the league. Weapons abound offensively for the team up North and no two are more dangerous than the receiving tandem of Terrell Owens and Terry Glenn.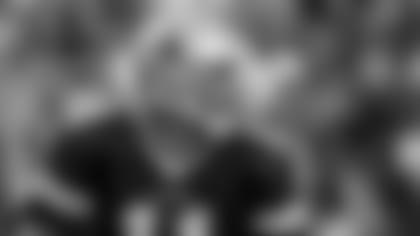 Glenn looks to be on pace for a career season in 2006. He's been quarterback Drew Bledsoe's favorite target early in the season with 20 catches to lead the Cowboys, including three touchdowns.
Not to be outdone, Owens has caught one score to go along with his 17 catches. Owens is viewed by many as
"In my eyes, he's a bigger challenge," C.C. Brown said of Glenn, not Owens. "Watching their past few games, he's been getting most of the balls. I don't know if that's because they scheme him to get more balls, but that's how it goes in my eyes."
' two-headed monster didn't put Glenn or Owens ahead of one another.
"If you look at the stats, they're real similar," Robinson said. "If you double T.O. then they'll beat you with Terry Glenn and if you double Terry Glenn, they'll beat you with T.O. It's one of those situations where you have to be at your best. You can't really focus in on one because both of those are great receivers so you just have to come ready to play."
Robinson was quick to point out that
' situation at receiver is much like the one he faces daily in practice.
"You have two types of receivers with those two, both of them can hurt you," Robinson added. "It's similar to our situation. You got two guys in Andre (Johnson) and Eric Moulds that you really can't focus in on one because the other is just as good. It's going to have to be a great effort on our part in the secondary to slow them down."
Despite his somewhat slow start this season, no one can doubt Owen's ability on the field. He's found the endzone more than 100 times during a career that has seen him play in three cities. For many second-year players, Owen's offensive prowess might be intimidating. Not for
"Big strong, cocky-like guy," Brown said of how he sees Owens. "He likes to talk and he's going to try to have his way, but he's normal like anyone else."
Robinson had a different take.
"If you look at the numbers, they don't lie," he said. If you look at his statistics they're right up there with some of the best receivers to ever play the game. His physicalness, his ability to run after the catch all make him a good receiver. Those are the things we need to worry about. We have to tackle him on the spot. We can't let him turn a five-yard pass play into an 80-yard touchdown."
If there is one chink in the Cowboys' offensive armor, it might be turnovers. While
ranks among the league's elite in most offensive categories, the reason for their 2-2 start is some costly turnovers.
Bledsoe has thrown seven interceptions already and the Cowboys rank 22 nd in the NFL in turnover ratio with 10 already in four games. There is one problem.
's defense has only created three turnovers in four games so something has to give this week. Texans' defensive coordinator Richard Smith is hoping
picks this week to pick up its' turnover pace.
"It's hard to win football games in this league unless you're able to create turnovers," Smith said. "That's been one area we'd like to fix and that we're working on and hopefully that will happen this week."
Smith's top cover man is hoping for at least one interception this weekend in
. Robinson said that outside of controlling Glenn and Owens on offense, turnovers could decide the game.
"Every week you focus in on getting turnovers," Robinson said. "It just so happens we haven't got a lot of them thus far, so yeah that is another focus for us because we want to put our offense in the best field position we can every game.  Turnovers will be big in this game so we want to get a couple."
If the Texans are able to contain Owens and Glenn and collect some turnovers, they may just leave Texas Stadium Sunday with a win.