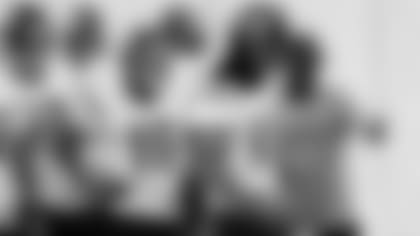 ]( "DeAndre Hopkins (10), Alan Bonner (16)")

Rookie wide receivers DeAndre Hopkins and Alan Bonner both left the Texans' Friday afternoon practice early with cramps. Both are expected to be fine by Saturday morning.
The Texans practiced outside in the sun on Friday afternoon after working inside the Methodist Training Center because of rain in the morning.
"It's their first taste of a little heat," Texans coach Gary Kubiak said. "I told 'em it was probably the nicest day they'll ever practice around here, so they need to get used to it. But no, it was good. Those guys that wore out this afternoon or had to get pulled out should be back in the morning."
Before Hopkins left practice, he continued an impressive day with another highlight-reel catch. On his final play before the Texans sent him inside, the first-round draft pick stopped on a dime near the left sideline, turned around and snatched a hard throw with his right hand with a defender draped on his back in tight coverage.
"He made a hell of a catch," Kubiak said. "He's doing fine. Just that adrenaline and the newness of coming out here and flying around gets some guys pretty tired pretty quick. I think they'll be fine tomorrow."
Texans wide receiver EZ Nwachukwu, an undrafted rookie from Texas A&M, was not at practice on Friday afternoon. Kubiak excused him so that Nwachukwu could attend his college graduation ceremony in College Station.
Twitter.com/NickScurfield