Though the numbers don't tell the whole story, perhaps they at least tell of a path.
The Texans' defense has come a long way since the third game of the season. After that third straight loss, Houston was last in the NFL in total defense, allowing a whopping average of 483.7 yards a game.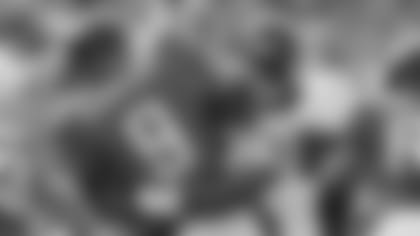 Now with two games to go, they have scratched and fought their way from 32 nd to 25 th in total defense, averaging 341.1 yards a game.
After the third game of the season, they were giving up nearly 100 yards more than the second-worst defense in the league at the time, Green Bay (388.3). Today, they are fewer than 10 yards a game from being squarely in the middle of the NFL pack as is Seattle (332.7).
It's a young defense with such superstars-to-be as linebacker DeMeco Ryans, the leading tackler in the NFL with 113 solo tackles and second in total tackles with 138, and end Mario Williams, whose 4.5 sacks are two short of the NFL record for rookie sacks by a No. 1 pick (set by Bruce Smith in 1985).
Those numbers tell of progress. But all that doesn't mean as much to defensive coordinator Richard Smith as one simple, unquantifiable truth.
This team will not give up any more.

"Going into the first game of the season, I was very confident going into the Eagles game and what happened?" Smith asked rhetorically. "They scored a couple of times on us and our guys kind of went into the tank, to be honest with you.
"Well, that doesn't happen anymore. What happened from that time, I think, is our players have grown. If you watch our games now, someone will score on us and it's not like the whole game's over where guys are on the sideline complaining or dropping their heads.
"Now, they continue to compete and they'll continue to make plays and I think that is the biggest difference that I see. It's not that the coaching has changed, the players haven't changed. I just think they have matured more as a defensive team."
"A perfect example of that was at halftime last week," Kalu said of the 40-7 loss at New England. "We're getting our rears kicked, but coming out at halftime, we're not going to give up.
"D-Ryans, a young guy, called everybody together on the field and said, 'Hey, we're not going to give up. We're going to hit them in the mouth.' And even though they got that big return that hurt us, we still didn't give up and we kept playing hard all the way."
Part of that, Smith believes, is familiarity.
"I think what happened is we know our players a lot better now than we did then, No. 1," Smith said. "I think the player understand out system a lot better also.
"I just think the players have matured a lot more. They believe in the system. They believe in themselves. It doesn't just come from them. We know them a lot better and they know our system a lot better. The key thing is they have played with a lot more confidence than they did before."
Kalu says Smith had a lot to do with it.
"The defense definitely has improved," Kalu said. "We're playing together and we've accepted the coaching.
"I don't know if coach Smith realizes it, but everyone really believes in him and his system. We just needed some time to be together because so many of us were new and didn't know each other and didn't know the coaches. As a unit, we're starting to trust one another now."
"We've just been out there having fun the last few games," Peek said. "In the beginning, you can't do that. It's just so personal because guys want to win their positions. But now it's just about having fun and just relaxing and having a collective effort and just bringing it."
The Texans lost to the Colts 43-24 in the second game of the season and are playing host to Indianapolis this week. They believe this game will give them a gauge to see how far they have come.
"I think we've improved," cornerback Dunta Robinson said. "The only way to find out is to go out and play them on Sunday. We've gotten a lot better in a lot of aspects since we played those guys. They've gotten a lot better too, so we'll just have to go out and see."
Colts coach Tony Dungy certainly thinks the Texans' defense has improved.
"They're much better," Dungy said this week. "They've improved so much from the first four weeks of the season. I think it's a matter of getting comfortable with what they're being asked to do.
"As hard as it is to say, they were impressive to me in the New England game with the field position the way it was, holding New England to field goals a lot of times. In those situations, they held the fort.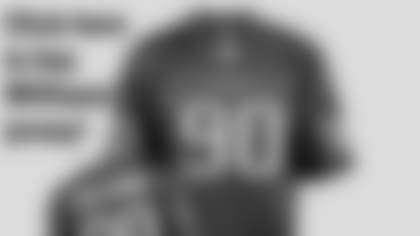 ](http://store.houstontexans.com/product/index.jsp?productId=2285934&cp=2237490&page=4&doVSearch=no&doVSearch=no&clickid=mainnavgeartxt&pageBucket=0&parentPage=family)
"They're playing well. I think they're confident in blitzing a little bit more than they did early in the season. They're putting pressure on people. Mario Williams has really come on and he looks a lot more comfortable."
Dungy especially likes the play of Ryans.
"He makes a ton of plays for them," Dungy said. "He's all over the field, he makes tackles. We ended up in a situation where we got up early on those guys, so we'll have to keep them on their heels and stay two-dimensional and run when they think we're going to throw and just the opposite.
"I don't think it's a fair assessment the first time out against us, but (Ryans is) certainly playing well and he's been great for them."
The numbers, at least, tell that story accurately.
*EDITOR'S NOTE:Jim Carley is a veteran Houston sportswriter who has covered the NFL for more than 25 years. He has worked for such newspapers as the Fort Worth Star-Telegram, The Houston Post, the Los Angeles Herald-Examiner and the National Sports Daily covering such teams as the Dallas Cowboys, the Houston Oilers, the Los Angeles Rams and the Oakland Raiders.