Texans head coach Gary Kubiak spoke to the media Monday afternoon following a 17-14 loss to the Denver Broncos on Sunday evening. In addition to commenting on Sunday's game, Kubiak also spoke about the first roster cut of the season and on how he plans to finish up restructuring the team after this weekend's final cut.
Kubiak began by talking about the positives and negatives that the staff saw after Sunday's game.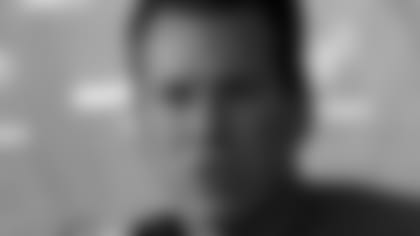 "On the defensive side of the ball, I thought we were exceptional in the first half," Kubiak said. "Some of the holes we put them in and the way they battled, they really kept in route to the end zone except for the penalty on special teams. (LB) DeMeco Ryans continues to be a very bright spot for this football team and I expect him to be that way for a long, long time."
Ryans has been assigned the starter at mike linebacker. Joining Ryans at starter, after an impressive outing against the Broncos is cornerback Lewis Sanders.
"He (Sanders) definitely played well last night," Kubiak said. "He's a very confident, physical player going against two good players out there last night and really did a good job.  Lewis has earned his keep.  I'm excited about him."
A major concern going into this past weekend's game was the effectiveness of the defensive line to improve as a unit. Kubiak was pleased with what he saw.
"I think they are all getting better," Kubiak said of the defensive line. "(DE) Mario (Williams) was definitely better this week than he was week one and two.  He's still going to get better.  Just watching him, when there is no indecision, he has been really, really good.  There has been some indecision, which there is going to be for a young player.  I think one of the guys to bring up and who deserves more time on the field is (DT) Seth Payne.  This guy has been doing it for a long, long time, and I think he stepped up and played really well in this game.  I told you all that I think we need to get better inside, and I think he's helping us get better.
"(DE) Antwan (Smith) continues to be very active.  The way he's playing, I think (DE Jason) Babin has been solid.  (DE) Anthony (Weaver) has been sold.  But that rotation, I think, gives us a chance up front.  (Defensive coordinator) Richard (Smith) did a few different things in the game, played a little 3-4.  We have some flexibility there with those players, and the more we can do that the better we can be."
On the opposite side of the ball Kubiak showed more concern. The Texans head coach spoke in depth about the mistakes and missed opportunities early in the game.
"There's nothing David (Carr) can do on third-and-six when we don't protect well," Kubiak said. "There's nothing David can do when it's first-and-twenty at our four yard line and we try to be safe and get the ball out there. Yes, David can protect the ball better. On the interception he threw, he was trying to check the ball down, which he should have been doing in that situation. But if that check-down is covered off or it's not there, then he's got to be able to throw the ball away or do something from that standpoint.
"He (Carr) was 15 out of 22 and he grounded two balls, when he's 15 out of 20 that's tough to do in this league. David's doing some good things and he's got to do some better things and that's why I'm here to help him to try and get those things done and we're just going to try to keep working."
Perhaps, Kubiak's biggest concern is helping Carr find his rhythm from early on in the first quarter, something the four-year veteran has been struggling throughout the preseason.
"I'm concerned," Kubiak said. "That's my job to get him started faster, to find a way. I've been through this with a lot of quarterbacks and they're all different. David's our new challenge and we've got to figure out how to get him started faster in a game. That's a challenge right now to figure out how to go about getting him comfortable in the game."
That issue will not be resolved this week as the Texans play their final preseason game against the Tampa Bay Buccaneers on Thursday. Kubiak said that he will sit out most of his starters.
"There's a group of guys that I know will be here playing for us on opening day," Kubiak said. "I'm not going to risk them getting injured with this short turnaround, I want to make sure they're healthy and ready to go against Philadelphia."
David Carr is included in that group along with running backs Vernand Morency and Wali Lundy. Chris Taylor and Antowain Smith will share time at running back against Tampa Bay.
Sidelining sure starters will give the opportunity for other players battling for positions to take the field and earn a spot on the final 53-man roster to be announced on Saturday.
"We've got some tough decisions to make and I want to make sure that those decisions are made on the field," Kubiak said. "I'm going to let some guys compete in this last game. Some guys are battling to be on this team as a back-up, or make it as a fourth or fifth receiver. I want that to be settled on the football field, so I'm going to give them a chance to play."
Although the official roster cut is not due until Tuesday, the Texans announced the names of released players Monday afternoon.
"Well, the reason we're doing (the cut) early is because of the implications for us on everybody else's cuts," Kubiak said. "I don't think you're going to see much happen here these weekend, but I think next Saturday you will. In a lot of ways it's like a draft day for this team.  We have to sit down and look at every cut in this league and see if we think we can improve our team.  Because you not only have to be ready to claim players if you think they make you better, but you have to know which direction you're going from a cut standpoint with the players that are on your roster.  So we have our work cut out for us, but we want to get our business out of the way on Friday.  Then (general manager) Rick (Smith) and I can sit there and evaluate, Saturday night, the cuts and then be ready to make our moves on Sunday morning."
A former back-up quarterback himself, Kubiak spoke about the difficulty of dismissing a player during roster cuts.
"It's really tough," Kubiak said. "I spent two hours up there, just one after another, coming in a just talking to them. You have such respect for guys that try to make it in this league. In all honesty they don't have a lot of control of the situation. I look back, the Denver Broncos kept me on their roster a long time because they passed the rule to keep three quarterbacks and one didn't count. I was very fortunate, and then things worked out. 
"A guy is trying to make it in this league, then all of a sudden you get a nick or something, and you get a chance to play and you (end up) playing for ten years.  I encourage them. We had some good kids that we let go today that have busted their tail.  I told everyone one of them if we were starting back tomorrow, I'd welcome every one of them back.  I think they all did everything we asked them to do, but you just try to encourage them.  I have seen many, many players take three or four chances to make an NFL roster, and then they make one and they play a long time.  I hope they don't get too discouraged, but it is a very tough day for them.  Walking out of that office is a lonely feeling.  You just try to be as encouraging as you can."**
**Despite the early dismissals, Kubiak and staff are not ready to make all the final cuts as there is still much left up in the air before the dust settles on who makes the final roster. Two positions he's waiting to sort out are the tight ends and fullbacks. With Patrick Hape being one of those dismissed on Monday, Bennie Joppru is left battling Jeb Putzier, Owen Daniels, Mark Bruener, and Aaron Halterman for a position. Kubiak is sticking to his word on keeping as many as he needs to make this team successful.
"If we made that decision today, yes I would do that (keep more than three)," Kubiak said. "Bennie has a lot to do with that situation with him being able to play a couple spots. If he's flexible and can play some fullback it may determine whether we keep two fullbacks or not. But those things tend to work themselves out. We'll wait until we get through Thursday."
Kubiak is using the same mentality for all positions and that is how he explained  fourth year veteran wide receiver Derick Armstrong dismissal from the team.
"When I look at a third, fourth, fifth wide receiver on a football team, I have something I expect out of them to do for the team," Kubiak said. "I think they have to be big role model players on special teams. I think they have to be big interchangeable parts every game week. From a game plan standpoint I think they have to be able to play a lot of spots and I think some of these young kids give us the ability to play those roles. I'm not a guy that thinks that every guy has to have a specialty. I think everybody's got to contribute. I do think Derick has fine hands, he does a good job of getting the ball. He's a good possession player, but when I think of the situation of the things these young kids can do for our team, that was a riding factor and I told him the same thing today. Can he play in this league? Yes he can and he's proven that and he did everything we asked."
Meanwhile, Kubiak and his staff will continue looking for players around the league to aid the reconstruction of his team.
"We will be looking at linebackers very hard, we'll be looking at running backs very hard," Kubiak said. "We'll be looking inside at defensive players.  We're going to try to get better, and if we see someone out there we think can make us better.  We have coaches that come from all over the place.  There probably won't be many guys out there that we don't have some feel for.  If we think a guy makes our football team better, then we're going to continue to get better."