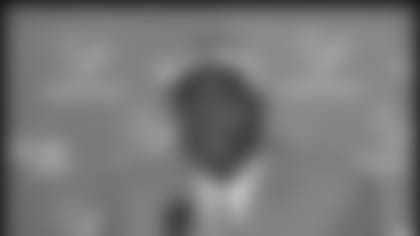 Johnson and Houston's other 2003 draft picks will report for their first mini-camp on May 8.
Pardon us if our eyelids are a little heavy. It's been an exhausting weekend for the Texans, but Charley Casserly and Dom Capers can sleep a little easier knowing they hit their draft marks. Houston snagged Andre Johnson with its first-round pick and even spiced up Sunday by selecting Drew Henson. We put the Texans' draft under the microscope. [Casserly/Capers post-draft
](/news/article-1/casserly-capers-post-draft-press-conference/E25F6EC6-D8C2-456F-96F2-56D4C8418517)
"Johnson should give the Texans and David Carr the vertical offense they have been yearning for."
Round 1: WR Andre Johnson | Round 2: TE Bennie Joppru | Round 3: LB Antwan Peek | Round 3: OT Seth Wand | Round 3: QB Dave Ragone | Round 4: RB Dominack Davis | Round 6: QB Drew Henson | Round 6: DT Keith Wright | Round 7: SS Curry Burns | Round 7: C Chance Pearce