Owen Daniels was still waking up this morning around 10 a.m. CST when he received a phone call from the Texans. Following their typical draft protocol, the Texans asked Daniels about his health and whether he'd been arrested recently.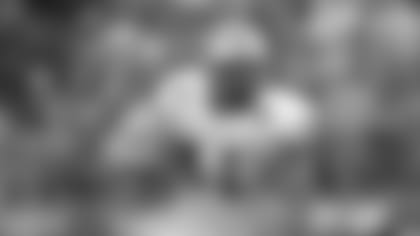 "I didn't really know how interested they were," Daniels said. "Then they told me they were going to take me with the first pick in the fourth round, and I couldn't be more excited about it.
"It was really nice to get off to a good start this morning. It was kind of tough to have to wait all night for one pick, but it was good to get it out of the way first thing."
The former quarterback from the University of Wisconsin moved to flanker as a redshirt sophomore in 2003 before becoming a full-time tight end. In 2005, he split duties at tight end, but still managed to catch 22 passes for 268 yards (12.2 avg.) and four touchdowns. In Wisconsin's Citrus Bowl win over Auburn this past season, he had three catches for 46 yards (15.3 avg.) and one touchdown.
While he's relatively new to the position, Daniels believes he fits well into head coach Gary Kubiak's offense with his athletic ability and versatility.
"(Tight ends) are a hot commodity in the NFL now," Daniels said. "Everyone wants an athletic guy who can stretch the field and create mismatches. It's great because we get to do a lot of things. We get to block like an offensive lineman, but at the same time we get to be a receiver and create different threats that way. I'm excited to contribute as soon as I can and get this offense rolling."
Kubiak expects Daniels to contribute in a number of areas, including tight end, fullback, H-back and special teams.
"We really like his upside," Kubiak said. "We like what he brings to the table, and if everything continues to come together for this young man, we feel like he has got an excellent opportunity to be a starter in this league for a long time."
One reason why Daniels was available in round four is because of his injury history. He suffered two serious knee injuries, the last one in 2002, but he passed all of the Texans' physicals and the team believes he's fully recovered.
"It was something that was part of the evaluation process," Kubiak said of Daniels' medical report. "He did have a knee issue at one point, and when he came to Wisconsin, he went through the same issue. But over the past couple years, he's been healthy."
The Texans' offense will feature plenty of two-tight end sets, particularly on running downs, where Daniels could see time along with veteran Mark Bruener, free agent acquisition Jeb Putzier, former second-round pick Bennie Joppru and Matt Murphy, who also could play tackle.
With only so many tight ends on board, players will be fighting for a spot on the 53-man roster. Daniels is ready to compete.
"College football is kind of a business, if you want to look at it like that, but this is a true business," Daniels said. "It's my job and I'm a professional now, so that's an adjustment I'm going to have to make. I love to play, so I don't have a problem getting motivated and ready every week. I think the game might be a little bit faster. What I need to work on the most is my technique in the run game. If I can continue to get better there, I think I can help out a lot."