Dunta Robinson took time Thursday to answer questions submitted by fans about the 2007 schedule LIVE on Texans TV. You can watch the archived video version on Texans TV at HoustonTexans.com.
Thanks to the over 200 fans that wrote in with questions for Dunta between Wednesday afternoon and Thursday morning. Here are his responses:
Shari Stanley: What do you think our record will be this year? Will we make it into the playoffs?
Dunta Robinson: I think the Texans can make the playoffs for the first time. It's a new Texans team. (head coach Gary) Kubiak did a great job of bringing in a lot of veterans, bringing in Matt Schaub, and I think for the first time the Texans can be in the playoffs and will be in the playoffs.
Gary Bearden: The second week into the regular season you could be facing David Carr. What is your take on getting the opportunity to now play against him and do you think the new surroundings will help him become the player he never became in Houston?
Dunta Robinson: A lot of the time change is good for a lot of guys. Maybe in his situation it's the same thing. Jake Delhomme is still their starting quarterback though so if something happens, injury, or if David beats him out, we're going to be focused on stopping Jake so our main focus right now would be stopping Jake Delhomme.
Matt Pemberton: As a huge Texans fan, I am more excited about this upcoming season, than any other season in franchise history. How is the attitude on the team, and how fired up are you guys for the 2007 campaign?
Dunta Robinson: The attitude on this team is a lot different from the past years. I think that's because that a lot of the new guys that we've brought in have been on winning football teams. The fact that those guys can bring that attitude to this team with the great guys we still have, the sky's the limit for this team and we're looking to do big things in 2007.
Austra Runnells: After reviewing the schedule, which games or combination of games will be the greatest challenge for the team this year?
Dunta Robinson: I think us going to California twice, San Diego the one week and then at Oakland, that's going to be kind of tough for us. That flight is not a short flight. When you have to fly to the west coast it's tough, that's a rough trip.
Scott Shore: Which game are you looking forward to most on the schedule?
Dunta Robinson: Me being from Georgia that game number four, Sept. 30, Atlanta Falcons, that's going to be a homecoming for me. I was passed up by the Falcons, they had the eighth pick and I went 10th here and I couldn't have chosen a better place than Houston, Texas, but I'm looking forward to that game because there is a lot of people from Georgia that I'm cool with.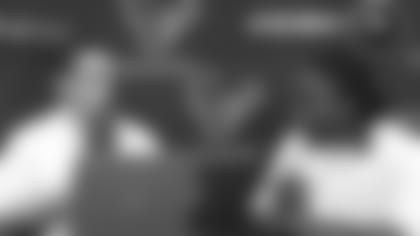 ](/texans-tv-and-media/videos/all-videos.html)Steven Liparulo: With San Diego, Denver, New Orleans, and of course Indianapolis (twice) on the schedule, you're going to be facing some high-powered passing attacks. How do you see the secondary for the Texans shaping up?
Dunta Robinson: I think we'll be fine. We just added Jamar Fletcher to the group. Last year we were a young secondary and we have another year under our belts. We've been getting better every season so I think we'll be fine. Facing good receivers is nothing new to us, we do that year in and year out playing the Colts twice every year. We look forward to those challenges and it's going to be good matchup every week.
Johnny Knect: Are you looking forward to a possible matchup with Reggie Bush coming out of the backfield?
Dunta Robinson: I don't. Marques Colsten is the guy I'm looking forward to going against. I won't have to lock up with (Bush) often, just have to make sure when I have in the open field that I get him down, that's my main focus.
Jason St. John: So what do you think about starting the year off with a proven team like the Chiefs?
Dunta Robinson: I think it's going to be a great test for us. If we can start this season off the right way, with a win, I think it will give us a lot of momentum. The thing we did last year was that we struggled through our first three games. We got better as the season went on. If we could have done some good things early in the season, the 2006 season might have turned out differently. We just have come out focused, Kansas City is a good team with a great running back in (Larry) Johnson and it's going to be great test, but we'll be ready for the challenge.
Patrick Krause: How do you feel about closing out the regular season against our most rivaled foe, the Jaguars at home?
Dunta Robinson: I feel good about closing with the Jaguars at home. It's a great team, just like Kansas City, it will be a good test for us. Hopefully, we'll be playoff bound and we can come out and get that win. Jacksonville is always a tough game for us. They're a very physical team and they bring out the best in us so I think it will be a great game for us.
James Stuart: How tough will it be playing Tampa Bay on Sunday and then turn around and play Denver Thursday? Is the fact that both games are home games going to help alleviate some of the stress of such quick successive games?
Dunta Robinson: That helps a lot that both of those games are at home. We'll have the home crowd on our side for two straight games and it's always good to know the fans have your back, but it's going to be tough. Tampa Bay is just like Jacksonville, very physical and then to turn around and play the Broncos on Thursday, it's going to be hard, these are the things we get paid for.