In a little more than four years of action in Texans history, there's one play that stands out in most fans' eyes as the signature play in franchise history. Leading the Jacksonville Jaguars 13-6 with less than a minute remaining at Reliant Stadium in 2004, and with the Jags driving for a possible game-tying score, Demarcus "Petey" Faggins sealed a
quarterback Byron Leftwich and returning the errant pass for a touchdown.
The celebration that followed is one that still resonates with many
fans today. Faggins leaped on top of the wall that surrounds the playing field at Reliant Stadium and celebrated amidst a group of raving fans. Faggins was clad in his Battle Red jersey, and the fans, arms raised, were dressed in red themselves.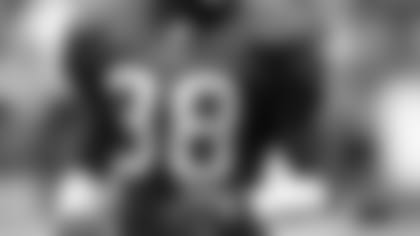 Ironically, Faggins makes his return to the
lineup this weekend against the Jaguars, and once again the Texans will be sporting their Battle Red jerseys. Faggins, like most in the
area, remembers his last experience against the Jags on Battle Red Day fondly.
"Of course," Faggins said when asked if he reminisced about his big play. "It just so happens it's my first game back, Jacksonville, Battle Red jersey, at home, crowd going to be crazy, it's going to be exciting. I think about that, but that was 2004 and now it's 2006 and I have to come in and hopefully make a difference."
It's not a secret that the Texans could use the help in their secondary. Dunta Robinson and Lewis Sanders suffered through cramps on Sunday in
Texans defensive coordinator Richard Smith said he's looking forward to getting Faggins back for his skill, certainly, but more importantly he's excited about the depth a healthy Faggins will provide to his secondary.
"That's a blessing in disguise," Smith said of Faggins' return. "First of all when he was in training camp, he was performing very, very well. He's got great coverage skill, great leadership skills, great ability. We're very pleased to have him back. I'm not taking anything away from Lewis (Sanders), who has played in that position. I think he's done a wonderful job in that position, but the way I look at is that we've bettered ourselves in that position for the future now because we have experienced depth at the position which I think is going to help us in the long run."
Faggins is not expected to start Sunday, but head coach Gary Kubiak said Wednesday that he hopes to have Faggins on the field for about half of the defensive snaps Sunday. He, like Smith, is excited to have Faggins back and they haven't exactly kept that a secret from their cornerback.
"Oh yes, yes, they've (the coaching staff) been telling me all week and all last week that they can't wait for me to get back," Faggins said. "But for now I just have to get in and do my thing and help the team win in whatever way I can."
Faggins suffered a Jones fracture of his left foot early in training camp and while he's been on the active roster since then, he returned to practice just last week. Faggins said that could cause him some conditioning problems in the short term.
"Oh yeah, especially with one of my wheels being the problem," he said. "It's hard to stay in shape. Running in the pool, cardio on the (elliptical machines) is not the same as being out there running around."
Faggins added that his setback early in training camp was frustrating. He appeared to have cemented a starting spot opposite Dunta Robinson, so watching from the sideline was not something he particularly enjoyed.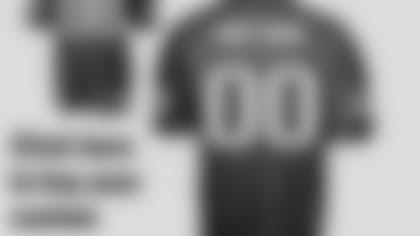 ](http://store.houstontexans.com/category/index.jsp?categoryId=2525854&clickid=OASbattlered06)"It's been hard," Faggins said. "Watching us lose, some plays not being made, I just wanted to be out there win or lose. I just want to be out there to give my team a chance."
He'll get his chance to help his team in a few days and Faggins knows the Jaguars will go right at him.
"Oh yeah, I know they will," he said. "Coming in here, they are going to be saying they got a cornerback here in his first game back, first game back from a foot injury. Oh yeah, they're going to say that guy's not going to be in shape, he's not going to cover, he doesn't have confidence in his foot so of course they're going to come at me and I know that."
Perhaps Leftwich will choose to challenge Faggins again and maybe he will respond the same way he did in 2004. Maybe he won't. Either way it's going to be tough to top his first Battle Red big play.
"Oh no, that's the biggest play ever, ever," Faggins said.