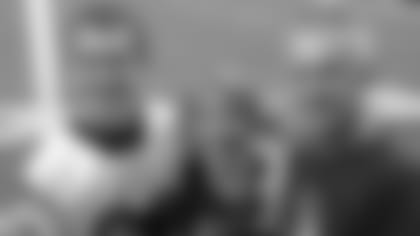 EDITOR'S NOTE:
This story appeared in the Texans Gameday Magazine for the Dec. 23 game vs. the Minnesota Vikings.
Chris Golonka and the rest of Section 137 started a Texans trend.
According to Golonka, an original Texans season-ticket holder, in year two of the franchise in 2003, he and the rowdy fans in his section began yelling 'First down!' every time the team moved the chains.
"About the fourth year, the announcer started doing it," Golonka said. "You can ask anyone in our section who started the first down cheer. They would say, 'Us.'"
 A native of Buffalo, N.Y., Golonka said he was not much of a Houston Oilers fan when he relocated to Texas after graduating from high school in 1978. Still, the Oilers' departure left him and the rest of the city feeling incomplete.
"When they left, you had that void," he said. "It was just like, 'What are we going to do now?' When the Texans came along, I just made it a point to jump in from the ground floor and become part of the experience."
Golonka purchased three season-tickets – one for him, one for his son Charlie and one for 'whoever is lucky enough' to accompany them to Reliant Stadium on gameday. Charlie, 20, has spent half his life as a Texans fan, never missing a chance to spend a Sunday afternoon of tailgating and football with his dad.
"It's our time; me and my son like doing this," Golonka said. "It's a good time for eight weekends out of the year. I think we've got one of the best owners in the league and definitely one of the most well-run franchises. They want us to have a good time, so it makes it easy."
One of Golonka's favorite things about the Texans is the top-ranked tailgating atmosphere. Any game, rain or shine, you can find him in the Blue Lot, spatula in hand.
"Fajitas to chicken to burgers to shish kabobs… whatever you can grill, we cook," Golonka said. "The tailgate part of it is just a blast. Everybody's sharing food and music and dancing and eating, the whole shebang. Afterward, we all meet up and have a couple of drinks and eat some more and hang out some more, sometimes until we get kicked out."
Though Golonka enjoys his pregame traditions, there's no doubt that he and Charlie come to Reliant for one reason: The game.
"We're there to support the Texans, through thick and thin, good and bad," he said. "We stay in the game until the very end. We never leave early. Even if we're getting blown out or winning big, there's no point in leaving. We want to see it through to the very end."
On Thanksgiving, Golonka got the chance to see the Texans play the Lions like few others when he and a friend that works for one of the Texans' sponsors traveled to Detroit on the team plane.
"We rode on the buses, flew with the team, stayed at the team hotel and got to stand on the sidelines before the game," Golonka said. "It was probably one of my most memorable Texans moments, seeing how they travel.
"It was all pretty laidback, but a lot of the players were nice enough to say hello to us on the plane. What a Thanksgiving."
And what a season. Golonka describes this year's squad as "fantastic" and hopes for a Super Bowl championship – not for himself, but for someone he sees as very worthy.
"We like Andre Johnson a lot," Golonka said. "We're pulling so hard for him to get at least close to getting a ring, if not getting it. Boy, does he deserve it."
Here's to hearing a few more 'First down' cheers from Section 137 today, and deep into January.