This week in Fan Spotlight we're featuring a familiar face. Many of you have undoubtedly run into "the guy with the horn helmet" at games, practices, driving down the freeway or wherever. I had a chance to sit down with Preston Chauvin recently and ask him a few questions.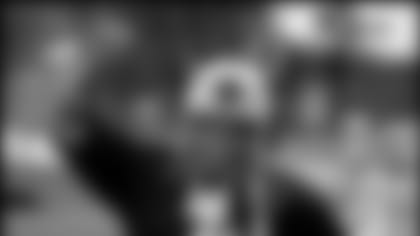 Where do you call home? **Cut and Shoot, Texas
For real? Yeah, it's up by Conroe
What's your day job?I'm a postal worker – a window clerk, and I'm retired from the U.S. Air Force
Who did you root for before the Texans? The New Orleans Saints since I'm originally from New Orleans.
What's your favorite Texans moment? It has to be the David Carr to Billy Miller Touchdown against the Dallas Cowboys on September 8, 2002.
Who's your favorite player? Aaron Glenn
If you had the opportunity to say one thing to Coach Capers, what would it be? It would be Coach, I think you're doing a great job and it looks like we're right on track, on the four-year plan.
What are your game day rituals? Getting up the morning of a game, putting on my Texans gear and driving to Reliant Stadium or to wherever I'm going to watch the Texans. I drive with all my gear on in my Mazda Miata. I have a Texans Logo painted on the hood. I get some great looks along the freeway.
What does your family think of all this craziness?
My daughters think I'm a crazy fanatic - and that's an understatement. My wife thinks I'm loco.
Thanks, Preston, you seem to be one of the more colorful and dedicated Texans fans so keep up the good work and we'll see you at the games.