Hello again, Texans fans. I thought you'd like to meet another one of the 70,000 regulars who meet at Reliant Stadium on Sundays in the fall. I had a chance to sit down with Texans fan Marc Lankfordrecently and I took the opportunity to ask him a few questions: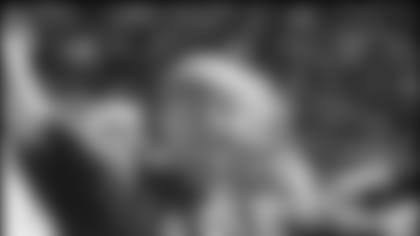 Where do you call home, Marc?** "Bellaire"
So what's your day job? "I'm a Marketing Consultant"
Which team did you root for before the Texans? "I was an Atlanta Falcons fan"
How long have you been a NFL fan?"I've been a fan for 23 years"
How did you become a Texans fan?"I followed Houston NFL 2002 from day one. As the public events such as naming the franchise, displaying the logo and unveiling the uniforms came to fruition the excitement snowballed. After it became clear what sort of organization Mr. McNair wanted to create and the fact he chose to distance the Texans from the former NFL team in Houston, I bought in for life."
What has been your favorite Texans moment? "The opening drive against Dallas in 2002 will forever be hard to top: Billy Miller diving for the end zone…Touchdown Houston…Are you kidding me? This is a moment they will never forget!"
Who's your favorite player? "It may be cliché, but David Carr absolutely. I have always followed Fresno State, he wears Cal Ripken's number and you couldn't hope to find a higher character guy to lead your team…oh yeah, and he has a rifle for an arm"
Do you have any game day rituals you'd like to share? "Home games are the best. I get to Reliant early to catch up with the Bull Pen and the Blue Crew Tailgaters in...of course...the Blue lot. Every week there is an item of the opposing teams that gets defaced in some fun manner. The Bull Pen band makes its way to our area, everyone toasts the Texans and we get prepared to head up the ramps with the band. Most importantly though, I wear the same thing every Sunday"
So where could we find you when you're not at Texans games? "I don't miss a home game, but when the Texans are on the road I've traveled a few times to other cities in Texas to get involved with the local fan clubs. Austin and San Antonio were both fun trips. If I don't go out of town, I try to meet up with the Bull Pen at a Houston sports bar"
If you had the opportunity to say one thing to owner Bob McNair, what would it be? "All I could say is thank you…over and over again. Honestly though, I would prefer to be a fly on the wall when Mr. McNair, Charley Casserly and Coach Capers have conversations more than anything. By the end of training camp I bet the conversations between the Coach and GM are tense yet exciting."
So what's your favorite college team? "The University of Texas"
What's the team that you enjoy beating the most (or would enjoy beating)? "Dallas is number one with a bullet, but Tennessee is never that far behind. I am sure as the seasons roll by, playing Bud Adams and the Oilers twice a year will create a great rivalry"
Thanks a lot Marc, we'll see you at Reliant.