Hello again, Texans fans. I thought you'd like to meet another one of the 70,000 regulars who meet at Reliant Stadium on Sundays in the fall. I sat down with Texans fan Ted Currierrecently and I took the opportunity to ask him a few questions: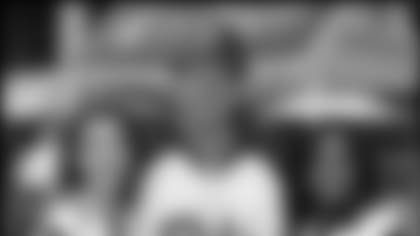 Where do you call home, Ted?** "Houston"
So what's your day job? "I'm a General Contractor"
Which team did you root for before the Texans? "I rooted for the Oilers but never the Titans and NEVER Dallas."
How long have you been a NFL fan?"25 years. I started watching when I was 5."
How did you become a Texans fan? "I was born one. It just took them a while to show up. Thanks Bob!"
What has been your favorite Texans moment? "The first game with the Cowgirls. The crowd was tremendous and the stadium was awesome. Only one thing could have made it better and it was 19-10!"
Who's your favorite player? "No question it has to be Aaron Glenn. He is just such a down to earth guy and he demands respect on and off the field without all the talk."
Do you have any game day rituals you'd like to share? "Yes, getting to the stadium 5 hours before kickoff, tailgating with my Blue Crew tailgating friends, dancing with the Bull Pen band, and NOT sitting down the entire game while at my seats in the Bull Pen."
So where could we find you when you're not at Texans games? "On houstontexans.com and texanstalk.com message boards."
If you had the opportunity to say one thing to owner Bob McNair, what would it be?"I would tell Bob McNair that it was a no-brainer to bring a team to Houston but it took a great man with drive and determination to give us the Texans as quickly as he did. Thanks again, Bob."
So what's your favorite college team? "I grew up watching Rice (I even sold coke at the games when I was young) and I always wanted to attend college there. I have always liked the baseball team."
What's the team that you enjoy beating the most (or would enjoy beating)? "I love beating the Boys but I think we can truly say that we have completed the circle when we beat the Titans this year."
Thanks a lot Ted, we'll see you at Reliant.
You can contact the Voice of the Fan at aj_texans@yahoo.com.