The Texans were not the only winners on New Years Eve. At halftime of
's 14-6 win over the Browns, one lucky fan won a 2006 Ford Escape.
picked up her car Jan. 3 at a local Ford dealer. However, though the car as been in her driveway for over a week, Stacy has yet to drive the car due to a recent shoulder surgery.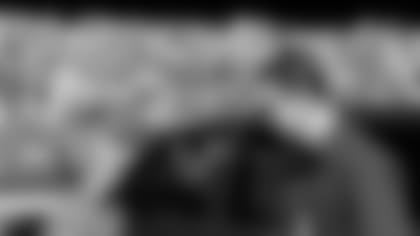 "It is truly Texan red and beautiful," Stacy said through an e-mail to the Texans this week. "My grown children and I have had many telephone calls from people who were at the stadium that day. Since I have not driven the car yet, I still can't believe I really won and it's mine to keep."
Fans entered the contest throughout the season at Texans home games and local Ford dealerships for a chance to win. Five finalists were randomly selected and invited back to the final game of the season. They were each given a key to try and unlock the door of the Ford Escape during halftime.
And if you ever doubted that good things come to those who wait, look no further than Stacey. Her family is charter PSL owners and she has yet to miss a Texans home game.
"The great story about the car is my hairdresser suggested I use number five if possible," Stacy said. "She told me the number five in another language means 'grace'. Also, my wedding anniversary is October 5."
For these reasons, Stacy asked if she could pick fifth among the keys that were spread among the finalists. That was not allowed because finalists were asked to pick a number out of a box to determine when each contestant would select a key that could have started the car.
"When we drew numbers from the box, I drew number four," Stacy said.  "Since I was number four to take a key I thought I was out of luck, but the three people in front of me took keys one, two and four. That left keys three and five on the table for me to choose from. Of course, I chose the number five key and the rest is history."
So look for Stacy in the parking lots next year tailgating wit her 2006 Ford Escape, just don't mess up the paint job.