The time has come for fantasy drafts. There are hundreds of different strategies, plenty of players to choose from. Here are some fantasy thoughts on some of the big names across the NFL. We start with quarterbacks, running backs and wide receivers.
Quarterbacks
Steve McNair, Tennessee Titans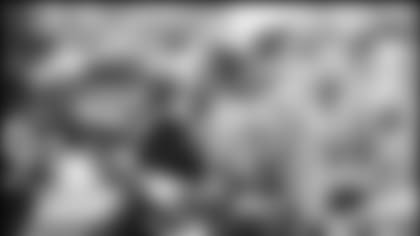 Co-MVP of the league is never a bad way to go. McNair was flashy in fewer games last season, but could be more productive in 2004 with the departure of Eddie George from the Titans' offense.
McNair threw for 3,215 yards in 14 games in 2003 and notched career marks in touchdowns (24) and quarterback rating (96.8). He was tops in the league when it came to third down rating (117.7).
His running ability gives McNair the slight edge over Manning.
The Titans are already planning a running game "by committee" to make up for George. Add McNair to the rushing list with Chris Brown, Antowain Smith and Robert Holcombe.
McNair rushed for 138 yards and four touchdowns.
Peyton Manning, Indianapolis Colts
You can't be Co-MVP and not be ranked at or near the top.
Manning is one of the greatest passers in the league and is a good fantasy choice for that reason. He'll always give you points, even on a bad night. He threw for 4,267 yards and 29 touchdowns last season. That's 237 yards per game.
One thing interesting about Manning is his ability to make game-changing audibles. With Manning, the Colts are always just a few seconds away from exploiting a defense.
He also has one of the league's more balanced offenses, with receiver Marvin Harrison, Edgerrin James at running back and up-and-coming tight end, Dallas Clark.
Trent Green, Kansas City Chiefs
We see now why Chiefs' coach Dick Vermeil liked Green when he was in St. Louis.
The Chiefs surpassed the Rams last season as the league's most notable offensive forces. Green and Manning were the only quarterbacks in the league to throw for more than 4,000 yards in 2003.
Green also has one of the league's best tight ends (Tony Gonzalez) to throw to. The rest of the receivers in KC are not as well known or productive, but combine to be a solid unit.
Vermeil's trust in the passing game and the added rushing threat of Priest Holmes helps Green's case.
Aaron Brooks, New Orleans Saints
Keep an eye on his eight interceptions last season. They were the fewest of any quarterback who played 16 games.
Brooks is another guy that can be threatening with his arms and his legs. Brooks threw for more than 3,500 yards and 24 touchdowns in 2003.
He also has Joe Horn outside and Deuce McAlister in the backfield.
Michael Vick, Atlanta Falcons
No doubt Vick will still be the popular pick for most drafters, despite his broken leg from a season ago. If you're looking for a huge passing threat, Vick is not the right quarterback, but he is a playmaker and will likely have several moments both through the air and on his feet.
Vick had 777 rushing yards when he was healthy in 2002. That same year he led his team to a playoff win at Green Bay.
With an ability to put up staggering numbers he is worth the risk.
Brett Favre, Green Bay Packers
No one disputes the heart and dedication of Favre. His 32 touchdown passes last season were tops in the league. He also has 12-straight years of 3,000 or more passing yards.
Running Backs
Clinton Portis, Washington Redskins
Portis will benefit greatly from Joe Gibbs grind-it-out type of football. His new offensive line might not be the bruising technicians he ran behind in Denver, but they will be able to give him chances.
Besides, Portis is the type back that needs just a sliver of daylight. At 23, he still runs on youthful exuberance. He posted six-straight 100-yard games and averaged over 100 yards per game in 2004.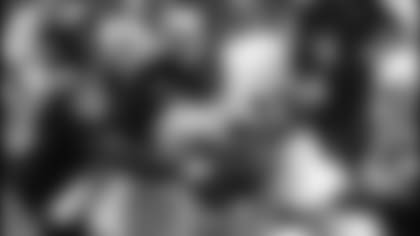 Jamal Lewis, Baltimore Ravens
Lewis is a sure pick because of his stats – 2,066 rushing yards last season – but questions will continue to swirl around his impending drug trial.
Will playing between testimonies hurt his game? Will the Ravens be forced to change their scheme because of legal issues?
Priest Holmes, Kansas City Chiefs
Fans in KC follow Holmes like religion. Nice irony, huh? Anyway, the eight-year veteran will run in practically the same offense he did in 2003.
Holmes rushed for 1,420 yards last season and also tallied 690 yards receiving. He is a big part of one of the league's most powerful offenses and proved he could overcome adversity, returning last season after surgery. Not to mention his 27 rushing touchdowns.
It's unclear how many games the Chiefs might win, considering their defense sunk to the bottom of the league in 2003, but they still stand to put up plenty of points. Larger leads mean more carries for Holmes.
Ahman Green, Green Bay Packers
Green led Green Bay to the playoffs and gave Cheese Heads someone to root for other than all-universe quarterback Favre.
He finished the year with a team-record 20 touchdowns. The Packers are 14-0 when he rushes for 100 yards are more. Green ranked second in the league in total yards (1,883).
Shaun Alexander, Seattle Seahawks
He's the face of the Seahawk franchise and will not be left out of the offense.
Alexander has the ability to take over a game. Consistency isn't one of his strong points, he may follow up a 175-yard performance with a 40-yard dud, but it might be better to have him than to compete against him.
Alexander spearheads an offense that ranked sixth in the NFL last season and came a couple plays away from beating Green Bay in the playoffs. His 1,435 yards weren't flashy, but produced 14 touchdowns and nine rushes of 20 yards or more.
Wide Receivers
Randy Moss, Minnesota Vikings
Moss was second in the league in receiving yards in 2003 and caught 17 touchdown passes. We all know his playmaking status. If he keeps his motor running on every play, there's limitless possibility.
Derrick Mason, Tennessee Titans
Mason emerged last season as more than a possession receiver. He caught six passes for 177 yards and three touchdowns against the Texans last season on his way to a 1,303-yard year.
He is Steve McNair's favorite target and will again find ways to get open and make anywhere from five to 10 catches per game.
Mason had nine games with 90 or more receiving yards.
Marvin Harrison, Indianapolis Colts
As far as fantasy receivers go, Harrison is one of the best.
He caught 143 passes two season ago and followed that with 94 grabs in 2003. Over the past two years he has had 39 catches for 20 yards or more.
There is probably no other quarterback-receiver combo in the league that has chemistry as good Harrison and Manning. Double team or not, Manning's ability to read a defense and their connection on the field means Harrison will get his catches.
He also has the ability to get on a hot streak. In 2003, Harrison had four 100-yard games in a row.
Anquan Boldin, Arizona Cardinals
Boldin led all rookies in receiving and pulled in eight touchdown passes on a bad team in 2003. New coach and a new attitude in Arizona will help him avoid a sophomore slump.
The team still doesn't have a lot of weapons, so look for him to get the majority of tosses. Two of the Cardinals NFC West opponents – San Francisco and St. Louis – ranked in the bottom third of the NFC in pass defense last season.
Tory Holt, St. Louis Rams
Holt is still a safe pick, despite his heavy workload and the Ram's history of streaky play. He led the league in receiving yards last season and will again be the primary target in St. Louis.
Holt is coming off a career year in receptions (117) and yardage (1,696). It was his best years since 2000.
Terrell Owens, Philadelphia Eagles
Owens is always the popular pick. So, here he is.
Owens had an off year in 2003 – 1,102 yards. But he spent that time at odds with several people in San Francisco. New team and a new quarterback could revitalize Owens to days of old, perhaps like 2000-2001 when he caught 29 touchdowns and posted back-to-back 1,400 yard seasons.
He will also be the unquestioned target in Philadelphia, something he has been searching for his entire career.