Similar to a football coach looking to trim his team before the final roster is due, Texans cheerleading coordinator Alto Gary had the unenviable task Tuesday night of announcing her final cheerleading squad for the 2005-06 football season ([ ](http://play.rbn.com/?url=nfl/nfl/open/2003/texans/demand/cheerleaders041906.rm&proto=rtsp)).
From a group of 54 women that advanced past the first four rounds of cuts, Gary chose 34 cheerleaders to represent the Texans. The 35th member of the team will be selected from among three candidates by fans, who can log onto HoustonTexans.com or ABC13.com following ABC 13's broadcast of "The Making of a Houston Texans Cheerleader" on Sunday, May 7 at 10:35 p.m.
The audition last night took place in the Verizon West Club at Reliant Stadium. With the women separated into 13 groups of four and one group of two, onlookers witnessed a lengthy tryout that involved interviews, side and front kicks, as well as two choreographed dance routines that the women learned during the previous rounds and in four practices leading up to the finals.
It wasn't until approximately 9 p.m., more than three hours after the event began, that the final squad was announced. As Gary describes it, this year's team features a combination of talent.
"When I saw the finalists on the first night of practice, I felt I could take 50 of them if I had the resources," Gary said. "What we were looking for this year, and of course what every coach wants, is a well-rounded girl. The women were judged on their dance, character and appearance. I usually tell them that if they can knock out two of those three, they have a good chance. The ultimate is to have all three."
The tension was palpable throughout the tryout, even for veteran cheerleaders. Ginger, who was one of the Texans' cheerleader captains last season, said that her anxiety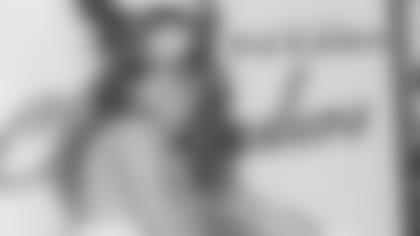 level was extra high this year.
"I think every year I'm just as nervous even though I've had previous experiences," she said. "I was actually less nervous my first time trying out because now I have more to lose. So it's harder."
Ginger was one of several former Texans cheerleaders to make the team. Since a number of other cheerleaders from last season declined to audition again, many new women also made the squad.
The cheerleaders' first performance will be at the 2006 Houston Texans Draft Party on April 29 at 10 a.m. For information on the event, or to register, click here. Also, don't forget to tune in to ABC 13 on May 7 at 10:35 p.m. to watch "The Making of a Houston Texans Cheerleader."