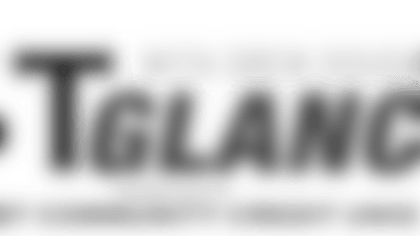 ](https://www.texanschecking.com/)
1. Blue and the crew- Pro Bowler Arian Foster is finished for the season and on injured reserve. In
his absence, the Texans will rely upon a combination of Alfred Blue, Chris Polk and Jonathan Grimes at running back. The last time Blue started, he rumbled for 139 yards on 31 carries in a Week 3 win over the Buccaneers. That experience, according to the second-year ball-carrier, should help pay dividends moving forward.
"It helps a lot, knowing that you've been there before, so you go in there more confident and you have a better mindset approaching the game," Blue said. "It is a great opportunity."
For head coach Bill O'Brien, that trio of tailbacks and fullback Jay Prosch might not be the only Texans who carry the ball on Sunday.
"There's other guys on our roster that have played running back before," O'Brien said. "We may even do some of that."
Cornerback Charles James II ran for a 73-yard touchdown that was nullified by a penalty during the preseason win over the Saints. Don't be shocked if he's lined up in the backfield at times against Tennessee. 2. 2 years or less- The two Texans victories this season have come against a rookie quarterback and a
second-year quarterback. Tampa Bay's Jameis Winston and Jacksonville's Blake Bortles were on the losing end of games against Houston, and Tennessee will start a quarterback on Sunday with less than two years of experience. Rookie Marcus Mariota, who missed last Sunday's contest against Atlanta with a knee injury, or second-year signal-caller Zach Mettenberger will start for the Titans.
"Mariota is a guy that has great running ability and that is one of the things that you have to be concerned about there, because if you let him outside the pocket he'll turn it into a 20-yard gain himself," defensive coordinator Romeo Crennel said. "Mettenberger has a big strong arm and he wants to use his arm. Not that Mariota doesn't have an arm, but Mettenberger wants to use his arm because he has a big strong arm."
Mettenberger was sacked once and picked off twice on Sunday by the Falcons. He also threw a touchdown pass and completed 22-of-35 passes for 187 yards in the 10-7 loss. Last season in a pair of losses to the Texans, Mettenberger was sacked three times and picked off twice, but completed 40-of-60 passes for 483 yards.
3. Hopkins vs Titans- In two games against the Titans at NRG Stadium, DeAndre Hopkins has caught a
combined 16 passes for 355 yards and three touchdowns. That's an average of 22 yards per catch. More importantly, the Texans won each of those contests.
This season, he's atop the NFL in receiving yards with 776, and he's second in the NFL with 58 catches. He and the offense will face a Titans defense that's stingy against the pass, allowing just 195.2 yards through the air per game. That's the second-best mark in the entire league.
For the Texans to get Hopkins involved, the run game going and the chains moving, it all comes down to execution.
"We have to go out and execute the plays that are being called, that's really what it comes down to and especially when you get in that situation, you just have to find a way to get the ball moving, to get a first down, get a completion, whatever it is," Hoyer said. 4. Turnovers and takeaways- The Texans have struggled mightily in the turnover differential category
this season. In the pair of wins, Houston is plus-3. In the five losses, they're minus-9. It's fairly simple: the Texans need to stay clean on offense, and force turnovers on defense.
"We've just got to get after them, after their guys up front, and do what we can do," linebacker Jadeveon Clowney said. "Try to put our DB's in a good situation to help cover them long, keep the quarterback in the pocket, and make him make bad decisions."
The Titans aren't much better than the Texans in turnover differential. In fact, they're minus-4 overall, to Houston's minus-5. Mariota said if he's able to play on Sunday, he must get the ball out quickly.
"They got a very talented group up front that can really disrupt the game and really change the outcome of it," Mariota said. "For the most part, it's just getting the ball out of your hand, going through your progressions, like you always do, but be very keen on getting the ball out quick."
5. Nate the Great- Veteran receiver Nate Washington turned in his finest performance as a Texan last
week, catching nine passes for 127 yards and a pair of scores. He benefitted from a lot of attention that was placed on Hopkins. This week, he might possibly benefit from familiarity with the Tennessee defense he practiced against the last six seasons.
"I do have a little bit of wisdom to that team, of course, obviously being there the amount of years that I was there," Washington said. "A lot of the guys that I played with are still around that organization so I do have a little insight, but one thing I will say about the NFL is guys will play different every week so it will be important that I do give the information that I give, but that we are fundamentally sound on what we are asked to do from our coaching staff and what they see as well."
![](http://www.houstontexans.com/news/drewdownfield.html)