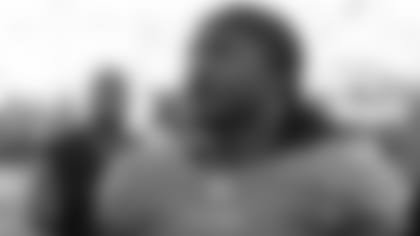 Greg Jones made the playoffs twice in nine seasons with the Jacksonville Jaguars.
The Texans' new fullback, who signed with Houston Wednesday as an unrestricted free agent, is excited for the opportunity to be part of a squad with Super Bowl aspirations.
"That was one of my main reasons for coming here," Jones said on a conference call Wednesday. "I got more years behind me than in front of me. My window of opportunity is getting slimmer and slimmer every year, so that was one of my main reasons. They've got a very talented roster and a very good locker room."
After being with the Jaguars for the entirety of his career, Jones will have to adapt to a new city, locker room, team and stadium. He said that once the novelty wears off, "football is football."
"It's going to be different, but it's a new chapter in my life, the next phase in my life and something I chose to do," he said. "I think I made the right decision."
As division rivals, Jacksonville and Houston meet twice a year, which makes Jones very familiar with the Texans.
"When Coach Kub (Texans head coach Gary Kubiak) took over, they had some down years at first, but it seems like all of a sudden they got a bunch of talent on the team and they started winning some ballgames," he said. "Right now, I think the past couple of years everybody has seen what they have put together.
"For this offense, I think the sky's the limit, but all I've got to say is I'm just trying to come in, find my role and just play my role 110 percent."
While with Jacksonville, Jones blocked for Maurice Jones-Drew and Fred Taylor, but now looks forward to working with Texans runningbacks Arian Foster and Ben Tate.
"They are two phenomenal runners," he said. "I just looked back at the last couple of years and what they've been able to do together. Even though they're both great runners, they're not the same. I'm just coming in to just pave the way for them so they can help me look good at the end of the day."