By many accounts, Tuesday was the first day the Texans officially could put last season behind them and begin working toward 2006.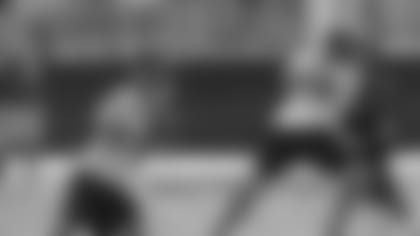 While players have been training for weeks during the team's off-season strength and conditioning program, and the coaching staff has been in place for months, today was the first time the team was able to practice together—rookies included—under new head coach Gary Kubiak's direct supervision.
"The energy was good," Kubiak said of the Texans' first day of on-field team activities (OTAs). "Players were flying around. A lot of new faces on this football team right now, so it's just exciting to get started."
Players went through meetings in the morning before specialists and skill position players began running through drills around 9:15 a.m. The team period began a little more than an hour later, and it didn't take long to sense a new approach on both sides of the ball.

Defensively, players swarmed to the ball, and linebacker Kenneth Pettway even retrieved a fumble that would have counted for six points in a game. The energy level was high, as well as the communication, which is a promising sign for a team transitioning to a 4-3 attack.
Quarterback David Carr looked comfortable in the pocket, which wasn't that surprising given the hours he's spent with Kubiak and offensive coordinator Troy Calhoun over the past few months.
"The confidence level is at an all-time high around here, and it starts with the coaches—how they carry themselves, how they walk on the field, how they tell you that if you do something right, we're going to be successful," Carr said. "There is no grey area at all. If you do it right, you're going to win, period. Their track record speaks highly of that. It's a good feeling."
There has been massive turnover on the Texans' roster this off-season, which is why the OTAs are so critical to build team chemistry. Veteran defensive tackle Seth Payne welcomes the new personnel. He can't remember another time when the team had so much depth, which is the first step toward fielding a consistent winner.
"I think, if you look at the competition on the team, we have more guys fighting for positions than we ever had before," Payne said. "We have more guys that could be starters at a lot of places in the league that may end up having to be backups, which is great for the team."
One of the fresh faces stood out above the rest, not just to the onlookers on the sidelines, but also to the players on the field. Rookie Mario Williams drew everyone's attention no matter where he lined up, which rotated from the left to right side depending on the strong side of the offense.
"From a distance, I thought he was a safety," Payne said of the 6-7, 290-pound defensive end. "Then I saw him up close and I don't know what he is. I hope he plays as well as he looks. He runs really well and he's working really hard mentally, and that's the biggest thing for (rookies). They have to learn their responsibilities really quickly and make them natural. He seems to be very conscientious about that."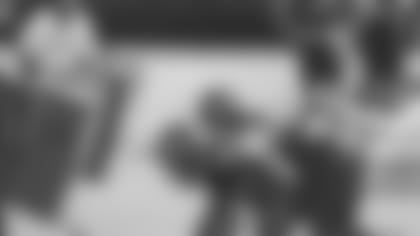 "He's a big dude," Robinson said. "I didn't want to stand too close beside him because I am already a small dude. He makes me look like Chris McKenzie."
Kubiak didn't even have to watch the defense to know how well Williams practiced.
"He stopped a lot of our plays, so he did a good job," Kubiak said. "But he has a lot on his plate on day one as a young man to hop in there with the starters and go. That's a lot to ask of the young man. But it looked like he did a fine job."
Defensive line coach Bob Karmelowicz emphasized quick feet, hand placement and staying low to the rookie from North Carolina State, who admitted there was a lot of information to digest in one day.
"I have learned a lot," he said. "I hope that one day I can overwhelm people in the NFL like I did in college. I just have to work hard and have faith and take it from there."
Normally, the number-one draft pick would steal the spotlight on his first day on the practice field, but Williams shared the focus with Kubiak. The Houston native kept a low profile during practice, rarely raising his voice, but there was no doubt he was in his element.
"This is what I love. This is what I do," Kubiak said. "And it was fun to get in there and work with those quarterbacks and talk with David. Just being around the players, I just love that part of the game.
"It's easy to sit in that meeting room and say we're going to run the ball, we're going to do this, we're going to do that. But you have to start to do that on the field and have them start to believe in what you're doing. I think it happens over a period of time. I don't think it just happens today. We have to pound the things we think are important, push them in practice, and hopefully they start to see some results from those things and make them believe in what we're doing."
There are 13 more days of OTAs before the first mini-camp June 7, so Kubiak has plenty of time to get his point across. So far, he's done a fine job.
Injury report: Running back Domanick Davis, linebacker Kailee Wong and tackle Todd Wade did not participate in the workouts due to their respective knee injuries…kickoff returner/wide receiver Jerome Mathis continues to recover from his motorcycle accident a few weeks ago and did not work out…linebacker Sam Cowart and defensive end N.D. Kalu "got nicked," but Kubiak doesn't think it will be serious.