*
*Taking a Bite Out of the Big Apple: **After a week of uncertainty, the Texans finally have the answer to solve the Jets quarterback riddle, and his name is Chad Pennington. After today's practice in New York, Jets head coach Herman Edwards named Pennington the starter for Sunday's matchup against the Texans at the Meadowlands.

"Hopefully, it will give us some adrenaline and excitement, but we still have to execute on offense and defense," Edwards told the New York media. "We still have to win a game. One player is not going to win a game for you."
But it does help narrow down what tendencies to expect from the pocket. Houston has been preparing for both Pennington and reserve quarterback Quincy Carter, who filled in for the last three games while Pennington sat out to rest an injured rotator cuff.
Deep down, the Texans probably had a hunch that it was Pennington they would face in their first-ever trip to play in New York.
"You have to prepare for both of them just in case even though you read about Herm (Edwards) saying in the paper that he's a little worried that Chad hasn't been hit in a while or him being a little rusty; but it doesn't take that long to work those things out," free safety Marcus Coleman said earlier this week. "Me knowing Chad and the competitor that he is, he's going to get back out there.
"So I'm more looking to see Chad than anyone else."
Coleman's hunches were right. The Texans will face Pennington for the first time in both teams second meeting. In last year's October game in Houston, Vinny Testaverde lined up under center so Houston's defense will see a new look from the Jets offense this time around.
Coleman and fellow Texans cornerback Aaron Glenn were teammates with Pennington for two seasons before they joined the Texans. So this week, the two were able to give a short scouting report on the quarterback to the rest of the Texans defense.
"He's been bred to play this game for a while and his improvement each year," Glenn said. "When I was there, he just kept getting better. Even Vinny (Testaverde) said 'This guy is going to be a big time quarterback in this league.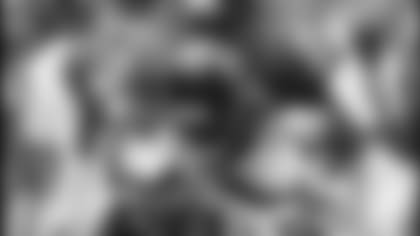 Texans CB Aaron Glenn will look to pick a few off against his former Jets teammate, Chad Pennington.
"He has everything going for him. I'm proud of Chad and I think he has a bright future in this league and he's a guy that hopefully in this game I can go and get two or three picks on him."
Taking the ball away from the Jets offense is no easy task though. Glenn and the gang will have to work hard to create turnovers. The New York offense leads the league in the fewest number of turnovers and overall, the team is plus-14 in the takeaway-giveaway battle.
"They're a smart football team that takes care of the ball and plays smart and efficient football," head coach Dom Capers said.
While Capers had his defense prepared for whatever quarterback scenario was thrown its way, the team is also ready to enter into a hostile and raucous environment Sunday. Right now, the Texans are 2-3 on the road in 2004. They look to even that record in game 12 regardless of the crowd's discontent.
"You have to block out all of the peripheral distractions because you're going to have to deal with a lot of things you don't deal with at home," Capers explained. "It has to be 46 guys that circle the wagons and draw all their strength from guys supporting each other and knowing that you're not going to get any support from the crowd."
Courage Under Fire:Seth Payne was named by his Texans teammates as the winner of the 2004 Ed Block Courage Award. The honor goes to one player from every NFL team who exemplifies commitment to the principles of sportsmanship and courage. Payne was selected by a vote of his teammates who recognized his extra efforts both on and off the field and his ability to overcome great adversity.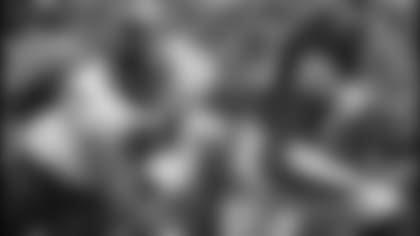 Returning to action after three knee surgeries, Seth Payne has notched two sacks for 16 yards so far this season.
Last September, Payne tore his ACL in New Orleans and was placed on injured reserve the following day. Following the initial procedure on the knee, Payne had a second procedure to remove a pin from the joint and a third to insert a new ACL after his body had an adverse reaction to the original graft.
He battled back from the multiple surgeries and regained his starting position thanks to a lot of self-motivation and hard work.
"I don't think the team could've picked a better representative," Capers said about Payne winning the award. "Seth is one of those guys that you just know is going to do everything he possibly can to rehab his injury to get himself back.
"He came back much quicker than I thought he would. He's gotten better every game and I think he'll play his best football these next five games."
Payne spent every day last fall with his teammates, in the weight room and on the training table to get himself back into playing form. Payne could be seen at the Texans facility religiously, even spending time working out on Christmas Day.
"If you've been around Seth for very long, you know that's his attitude," Capers smiled. "I saw him in the weight room in the offseason with an IV and he was in that weight room working out with an IV."
Payne will travel to Baltimore March 23-25 to receive his trophy at a gala with the other 31 NFL winners. The group will also visit the Ed Block Courage House, a facility that provides support and quality care for abused children and their families in the community.
Injury Update: RB internal-link-placeholder-0 was the only Texans player who didn't participate in Friday's practice. Capers said that every one else on Houston's squad will be ready and available for Sunday's game against the New York Jets.