reunion:While Andre Johnson will be making his second trip to the Pro Bowl in February, it's the first such honor for Colts receiver Reggie Wayne. The pair were teammates at the
recognized as one of the league's premier receivers.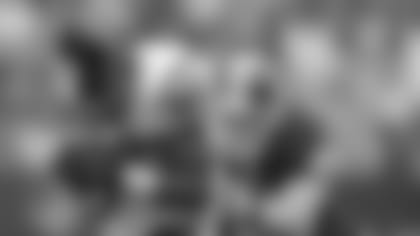 "I'm really looking forward to it." Johnson said of playing with
for the AFC squad in February. "Last year, I feel like he should have went, I was really rooting for him. I'm really happy he got it this year. Me, him and Santana (Moss) all played together in college. Santana had been (to the Pro Bowl), I had been and we felt like Reggie should have been. I really felt like he deserved to go."
The announcement was made Tuesday, but it took until last night for the pair to hook up on the phone.
"I didn't talk to him until (Thursday night)," Johnson said. "I told him congratulations and he was happy. And I really think by him getting elected to the Pro Bowl, that really takes him out of Marvin (Harrison)'s shadow."
Since Johnson has made the trip to Hawaii before, he might be called on to show Wayne a good time the week of the NFL's All-Star Game, but there are no plans as of yet.
"No, not really," Johnson said when asked if the duo had plans. "I'm pretty sure his family will be there and my family will be there. When you go on a trip like that, normally you spend most the time with your family. Sometimes you hang out with your teammates and friends from other teams, but once we get over there we'll discuss all that."
time:** Following a month of speculation, it appears that rookie running back Chris Taylor finally will get his first NFL carry this Sunday against the Colts.
Gary Kubiak has been saying for some time that Taylor would get a look in the backfield before the season was out, and while
has been on the active roster the past few weeks, he's yet to get a carry. That will change Sunday.
"We're going to play Chris Taylor," Kubiak said Thursday. "Ronnie (Dayne) will start. We're going to play Chris Taylor along with Ronnie. Wali (Lundy) will be suited up to, so all three of those guys will be up. But we want to take a look at Chris."
A challenge for the secondary:It's not news that the Texans' secondary will have its hands full this Sunday with a potent Colts' passing attack.
's best defense against the Colts Sunday may be a good offense.
"Any time you play (Patriots quarterback Tom) Brady and (Colts quarterback Peyton) Manning back-to-back, there's no bigger challenge for a defensive back or a defense in general," Kubiak said. "They have their work cut out for them. We're going to have to do a good job offensively somehow. Hopefully, we can find a way to hang on to the ball better than we have been doing, and help our defense out some. Because if you leave them on the field with this group, they're in trouble."
Injury update:Defensive tackle [Lional