of attrition: As you might expect for a game being played in late December, both the Texans and Patriots have their fair share of players suffering from some bumps and bruises.
has had key players banged up for weeks and a tough, physical game with the Titans this past Sunday didn't help matters. To keep his players fresh, and to rest some players who are playing week-to-week, Gary Kubiak mixed up his practice schedule a bit this week.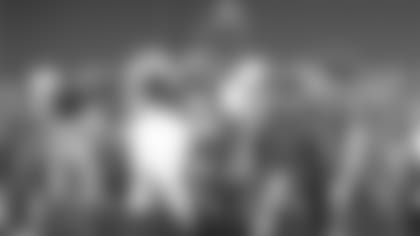 "We got a big group of players that are going to be available to play, but, you know, during the week if we take anything out of their body, we're making a mistake," Kubiak said Friday. "I'm not going to go through the list. I thought the best thing to do was to make Wednesday's practice a walk through to get some reps in. We practiced normal Thursday and today, we just bumped it up (today) so we could get our Saturday meetings in today since we leave early tomorrow."
As for the Patriots, they're notorious for having a laundry list of players on their injury report. While some injuries like safety Rodney Harrison's broken shoulder blade are certainly legit and raise doubt to the veteran's availability, listing Tom Brady as probable with a right shoulder injury is a little superfluous as there is no doubt Brady will be on the field Sunday.
Kubiak said Friday that the Patriots' methods make them one of the tougher teams to prepare for in the National Football League.
"I'll tell you one thing about them. You're not going to know a lot heading into the game," Kubiak said. "They don't tell you much. It makes them difficult to prepare for. They have some guys banged up, but you don't when they're coming back.
"You don't know when Rodney is coming back, or the nose (tackle Vince Wilfork), or the running back (Laurence Maroney). None of them could be back or all of them could be back. There have been a few times I've played them when you didn't what they were going to do. I think that's one reason why they've been so successful."
Some have called the Patriots' ways tricky, others go as far as cheating, but few in the NFL have a problem with how Belichick and Co. handles their business.
"No, I think they do it exactly the way it should be done," Kubiak said when asked if the Patriots stretch the rules with their injury report. "They do it fine, very smart on their part. It makes it difficult on your part, but that's the way the game is."
Cook finished: As it has been widely speculated during the week, Kubiak revealed Friday that fullback Jameel Cook is done for the season. He will have an arthroscopic procedure done Monday on his knee and will placed on the reserve/injured list sometime Friday.
Wide receiver Derrick Lewis will be signed from the practice squad and could see action Sunday.
"We're going to place Jameel on (injured reserve) sometime today," Kubiak said. "We're going to activate Derrick Lewis for this game so he is available to suit up if we do suit five wide receivers so we'll see."
in the backfield before the season is out.
will be suited up on Sunday, on Friday it didn't sound like he should be expecting to carry the ball.
"I don't know," Kubiak said when asked if
would get a look in the backfield. "It'll still probably be Wali (Lundy) and Ronnie (Dayne). He will be up. He's going to play on some special teams again. When that time for him to carry the ball will come, we'll see."
Injury update: Two players that remain question marks for Sunday are Jerome Mathis and C.C. Brown. Brown has a foot injury and Mathis is suffering from a sore groin.
"I just think that Mathis and C.C. are going to be both game-time decisions with where they're at right now," Kubiak said Thursday. "We'll see what happens (Friday), and it could even be one of those deals where we work those two guys out on Sunday morning and go from there."