Gado good to go Sunday?:Samkon Gado could get the first start of his Texans career Sunday against the Jaguars. Ron Dayne, who has been getting the bulk of the carries at running back the past few weeks could be inactive. That would leave Gado and rookie Wali Lundy as
's ball carriers against the Jaguars.
Considering that Lundy has seen limited action the past few games in the backfield, it would seem safe to assume that Gado, who's had  multiple carries in each game since arriving in Houston from Green Bay, will get the first touch Sunday.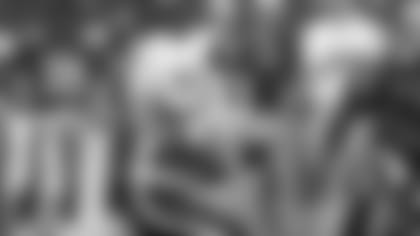 "Our plan is, right now, to play Samkon (Gado) and Wali (Lundy)," head coach Gary Kubiak said Thursday. "Our big question is if we suit three (running backs) then Ronnie (Dayne) will still be available to play. With some of the things that have been going on with our team on game day, with eight offensive linemen being suited up we've been playing games with two running backs as you all have noticed. We might have to do that again because we've got some other issues we've got to handle."
utilize just two running backs when none of the three running backs in the Texans' stable has established himself? Kubiak offered a pretty simple answer.
"Well, I could sit here and tell you that Ronnie bruised his knee last week, which he did, but in all honesty is we're going to keep searching and keep looking," Kubiak said. "You can't look when you're playing three guys and Samkon, we've come out of games and we have not ran the ball well and he's had, I think I want to say four or five touches last week. I've got to play him, I've got to see what he can do and Wali deserves an opportunity to come out and play. So we're going to keep searching for those guys and give them a chance and somebody's going to step up and do it and take it and run with it. In fairness to them you've got to put them on the field so we you can see. So I'm going to find out."
Movement on the O-line- Due to injury, there could a shake up on the offensive line this weekend. Zach Wiegart strained his knee last week against the Cowboys and he had missed most of practice until Friday. However, Wiegart returned to action Friday and told Kubiak he was ready to play.
"Zach's ready to go," Kubiak said. "He was out here today (Friday) and looked good. He looked over to me and said that he's ready to go so we should be fine there.
hasn't been completely healthy since the beginning of training camp.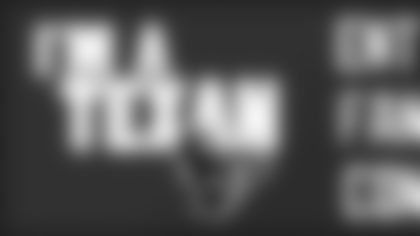 ](/news/article-1/win-an-nfl-championship-trip/A6AD06FB-D595-4B6B-8B58-69D5A66E3288)"Fred will start at right guard," Kubiak said. "Hopefully, Steve will be available to be our swing guy (at guard). That's always our decision, whether we suit seven or eight (offensive linemen. He's (
) battled his body a little bit. I just want to see Fred play. I thought Fred played well last week. You know, we're going to keep looking at players and searching to find a way to get better as a football team. That's not going to stop, we're going to continue to do that."
Wong and Faggins return: The Texans defense should get a boost this week with the return of linebacker Kailee Wong and cornerback Demarcus Faggins. Kubiak said that he expects Wong to play about half of the defensive snaps at strong side linebacker while Faggins will also play close to 50 percent of the snaps in various situations.
"Right now I would think he (Faggins) wouldn't start, but he's definitely going to play," Kubiak said. "Him and Kailee, I wouldn't think they would start. That could change, but now I don't think that's the right thing to do. We're (want to) make sure they play and play the right amount of time in the right situations this first week."
is an experienced lineman who has played previously with two teams the Texans coaching staff has familiarity with, the Denver Broncos and Kansas City Chiefs.
"He looks good," Kubiak said. "He's ready to go. I expect him to suit up and make a contribution."
will be active:Wide receiver David Anderson, who was activated from the practice squad on Tuesday, is expected to dress Sunday and be a back-up for both kickoff and punt return duties. Edell Shepherd will remain on punt returns with Shepherd, Anderson and Lundy as options on kickoffs.
Babin Out: Defensive end Jason Babin sustained back spasms during Thursday's practice and missed Friday's entire workout. Kubiak said that he doesn't expect Babin to play Sunday leaving and already injury-riddled defensive line with one less body.