* Ready and willing:*Ever since rookie tackle Charles Spencer was lost for the season because of a broken leg weeks ago, head coach Gary Kubiak has mentioned Eric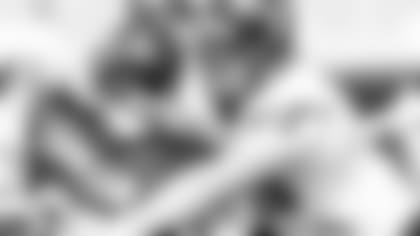 Winston as a player the Texans want to get involved in the offensive line rotation.
The rookie tackle from Miami has been inactive on game day for most of the season, but it appears this Sunday at Dallas will be the third-round pick's time to shine. On Friday after practice, Kubiak anointed Winston the Texans' swing tackle against the Cowboys.
"He'll definitely be active," Kubiak said. "He's a swing tackle going into the game, and we made that decision during the bye (week) that, I know it's a lot for him to handle, but for the future of the team, we've got to find out where he's at and how far he can come."
Depending on the flow of the game and any injuries, Winston could be asked to fill in at left or right tackle. Both tackle spots are crucial in pass protection, but each side has different responsibilities that make being a swing tackle a tough job.
"Yeah, that's difficult to know both sides, but we can also help him with that," Kubiak said. "We can make sure that if something did happen he would only be on the left (side). That's something we could dictate, but we're not going to find out where he's at or how far he can come if we don't just basically throw him in the fire. He's worked well this week, and we'll see how he does."
A test of wills: Sunday will mark the first time that many Texans players have faced Aaron Glenn since the veteran cornerback left the team prior to the 2005 season.
The Cowboys' secondary is one of the most accomplished in the NFL, and Glenn led the team in interceptions last year with four. The Texans' receivers know they face a challenge this Sunday, particularly since Glenn isn't even a starter.
"That kind of tells you how good their secondary is, when Aaron Glenn is your third corner," Eric Moulds said. "They're very athletic. Their safeties are hitting safeties. They are not really cover guys, but they come up in the run game and cause problems. So myself and Andre (Johnson) and Kevin (Walter) will be on our toes out there to try and make plays against those guys."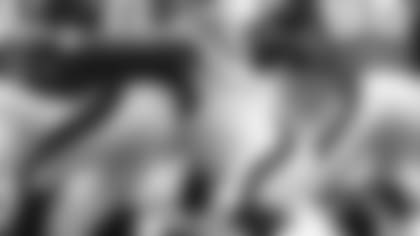 Following the script: **Against the Miami Dolphins two weeks ago, coaches told Mario Williams exactly what moves they wanted him to perform in certain down-and-distance situations. The result? Williams had 1.5 sacks in the win and was nominated for NFL Rookie of the Week honors.
Williams played so well, in fact, that Kubiak plans to approach the Cowboys game the same way, by giving Williams specific instructions to follow.
"Yeah, we're trying to do that with him because the thing we want to do is, there are certain things that as a rookie he's not going to go do on his own, just from a technique standpoint. So we're trying to basically say, 'Hey, Mario out of 10 rushes we want to see this five or six times.' So we are trying to do that with him. He's responded well. He looked really good (in practice) on one-on-one's. So, hopefully, he gets confidence from the last outing and gets better."
Kubiak doesn't consider scripting plays for a defensive lineman out of the ordinary, particularly since Williams is still developing as a player.
"No, that's not unusual," Kubiak said. "It's just paying attention to that one player in a lot of ways. If you just sent them out there and expect them to do that on their own, they're not always going to do it when they're young. So we're trying to make sure that he's got a plan and we come out of the game seeing this move three times and that move three times, (and) now let's see how much better he got. But we're making him show us those things."
Kubiak has been pleased with Williams' progress, not only in games, but during practice as well. He thinks the bye week has sped up the rookie's learning curve.
"He's getting better," Kubiak said. "He's really improved these two weeks with the couple of extra practices last week and the extra one this Monday and watching him on one-on-one's. But I think it's more of a confidence thing with him than anything. Some good things happened to him two weeks ago, and hopefully we can go from there."
Williams should benefit this Sunday from the fact that Dallas quarterback Drew Bledsoe rarely leaves the pocket. Even when Bledsoe does scramble, he's not a threat for a big gain.
"Any time you have a quarterback that is not like Michael Vick, who can take off and is faster than anybody on the field, then it's a good thing to have somebody not as mobile," Williams said.
Injury update:Defensvie end Antwan Peek, who took a step back Thursday when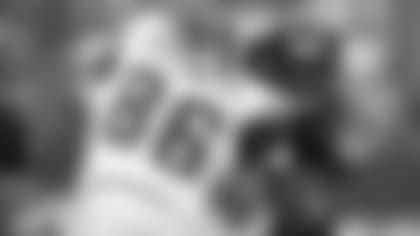 he tweaked his hamstring in practice, is listed as questionable. Peek's groin is a concern. He hurt it initially at Indianapolis.
"As of right now, I would say it doesn't look good," Kubiak said of Peek's prospects of playing Sunday. "It will be a game-time decision."
In other injury news, several key players on the Texans are expected to return to the field soon after being sidelined since the beginning of the season.
Linebacker Kailee Wong (knee) has been on the Physically Unable to Perform list, but Kubiak believes the strongside linebacker will return next Sunday to face the Jacksonville Jaguars.
"I would expect him to be about ready to go next week," Kubiak said. "All indications are that he's doing well and we have a 21-day grace period on what we can do. But just watching his rehab he's been fine."
Cornerback Petey Faggins (foot) also is making progress, but he's listed as out on the injury report.
"He's doing really, really well," Kubiak said. "I would say I'd be disappointed if he doesn't play next week. Right now, I would say he would definitely be ready to go next week."
Pro Bowl kick returner Jerome Mathis (foot) is a few weeks behin Wong and Faggins, but he could be back before the midway point of the regular season.