Sometimes adding a week onto the NFL season pays dividends. In the Texans case, the trek to Mobile, Alabama to coach the Senior Bowl was probably the best college scouting jaunt in 2002.
Head coach Dom Capers and his staff spent one week with their squad, learning each man's behavior on and off the field. An impressive tight end on the field and in the meeting room, the Texans scouting group had their collective eye on Michigan tight end Ben Joppru. In an upcoming season where beefing up the Houston offense was a priority, Joppru fit right into the mix.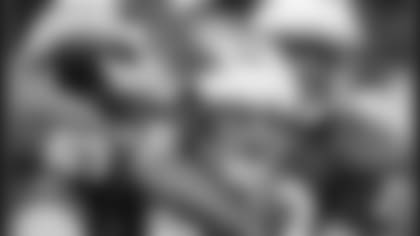 Joppru, the Texans second round (41st overall) selection, accumulated 85 catches for 800 yards and eight TDs during his career in Michigan.
The staff got their wish today in the second round of the 2003 NFL Draft. Not only did they obtain a 230-pound wide receiver in Andre Johnson, but quarterback David Carr will have another substantial target to hit with the 260-pound Joppru navigating the turf.
After assessing the draft board at the beginning of the second round, the Texans accepted a trade offer from New England that they felt would allow them to keep Joppru at arm's length by swapping their second round (36th overall) and 4th round (117th overall) choices to drop five spots to New England's 41st overall while gaining an additional third round (75th overall) pick.
"Bennie Joppru was the first player we would've taken had we stayed at our pick," Texans general manager Charley Casserly said. "Our feeling was that we could move back and switch the fourth for the third and put us in a position to get a player that we had rated as a quality player in the second round."
Joppru's combined speed and good blocking abilities seemed like a good balance when thrown into the mix with Texans' veteran tight end Billy Miller.
"I think he's a different style of tight end than Billy Miller," Capers said. I feel that we're getting a tight end that's a very good blocker with outstanding size and a good receiver.
"He's a solid, blue-collar work ethic type-of-guy. He is really a quality individual that will fit in well with Billy Miller and Jabari Holloway."
Joppru really started to become an impact player for the Wolverines during his senior campaign, when he hauled in 53 receptions for 579 yards and five TDs. His 53 catches ranked second on the school's season-record list for tight ends, topped only by Jack Clancy (76 in 1966).
Scouts were impressed with his multi-touchdown games at Illinois, where he had seven catches for 74 yards including scores of six and 27 yards to help Michigan to a dominating 45-28 victory.
While Joppru provided a stable and effective target for the Wolverine's short-passing game, the Texans coaching staff wanted to add a player with his work ethic to the Houston squad.
"We get a chance to observe young men when they're in meetings and on the practice field and our second tight end was out for a couple days with a pulled hamstring," Capers said about the week at the Senior Bowl. "Bennie Joppru had to take over almost every repetition and he worked until his tongue hung out. I was really impressed with the way he handled it and didn't complain and worked his tail off."* *
Both Joppru and Johnson will be a immediate, impact players in a soon-to-be re-vamped Texans offense that finished last season ranked last in the NFL.
         "I
         think the two picks that we had today are at tough-skilled positions
         and I feel very good about both players giving us more flexibility
         on offense," Capers said.