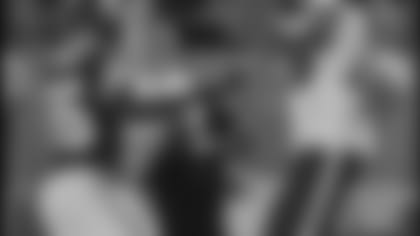 Gaffney has caught 12 passes for 152 yards through five games, including a nine-yard touchdown reception at Kansas City. The former Florida standout now has 87 career receptions for 1,037 yards and four touchdowns.

Click here ([ ](http://play.rbn.com/?url=nfl/nfl/open/2003/texans/demand/gaffneyqanda.rm&proto=rtsp)) to watch what Gaffney had to say. A transcript will be posted below.

Previous Q&As
* *
LB Kailee Wong ([ ](http://play.rbn.com/?url=nfl/nfl/open/2003/texans/demand/qanda092204.rm&proto=rtsp))
WR Andre Johnson ([ ](http://play.rbn.com/?url=nfl/nfl/open/2003/texans/demand/andreqanda081804.rm&proto=rtsp))

Jabar, *
*Congratulations on the big wins against Kansas City and Oakland! What preparations or rituals do you go through to get ready for gameday?
--Jason Poscovsky

Jason,
On game day I try to arrive to the stadium early and sit in my locker, listen to music and just think about everything that I have to do, all of my assignments and everything.

Jabar,
That catch you made against KC was awesome! I got so excited when you caught it, especially when it tied the game. What do you do to get yourself open during a game especially when you've got a CB on you and you still are able to catch the ball?
--Jason Hoffman

Jason,
I just study the DB's, see the things that they're doing and just try to set them up during the game.

Jabar,
You make some of the best catches in the NFL. Does it bother you to be a slot receiver or does it make you happy to know that you are going to get one-on-one coverage being in the slot?
--Trellis

Trellis,
No, the slot doesn't bother me. I played the slot in Florida and there's a lot of opportunities to make plays in the slot so if I can make plays in the slot, that's where I'd rather be.
*
*Jabar,
Do you think the Texans are going to have a breakout season this year? If so, how do you see yourself contributing to that success?
--Will

*Will,
I think that this could be the year. This is our third year in existence. We have a lot of veterans out here playing now and not a lot of rookies out here playing so we should be able to make that stride this year. I'm just looking to go out there every week and go against whoever they have against me and just beat them on every play.

*Jabar,
With teams worrying about David Carr, Andre Johnson and Domanick Davis, how are you preparing to make a difference knowing that opposing teams may overlook your skills?
--Bonnie Thompson

Bonnie,
Going into the game I hope they pay all of their attention to Andre and that leaves me and Corey (Bradford) with a lot of opportunities. *

*Jabar,
Do you often feel shadowed by other receivers that are on your level since being drafted into the NFL because you were taken in the second round instead of the first? Do you think things would've turned out different for you if you had stayed at Florida one more year?
--T. Moore (Houston, TX)

**T.,
No, I don't feel overshadowed. Through the first couple of years, all of the receivers that came out with me that were ahead of me, I out-played all of them. Javon Walker is coming into his own right now so I'm still ahead of a lot of them.