Following each practice leading up to Saturday's Dell East-West Shrine Game, scouts and media litter the field at the
Center. The scouts are there to get a taste of each player's personality and, ideally, to set up a more in-depth interview with the player later in the day.
The media is present to collect stories, interview local favorites, all while creating a buzz for the college all-star game that is being held in Houston for the first time this year.
Each player has a unique story, a pitch to a scout, or a well-coached sound bite for the camera. In that way, Jacoby Jones is no different than every other player scattered throughout the throng of people after each workout.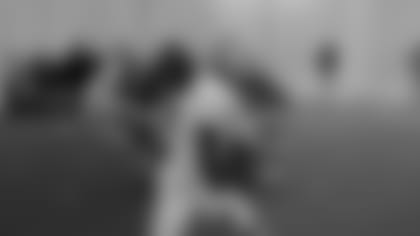 However, Jones' story is slightly more interesting than most. For starters, Jones didn't matriculate at
Michigan playing games in the national spotlight like East teammate, and fellow wide receiver, Steve Breaston did.
Instead, Jones spent his college days at
Tenn., a small, liberal arts school whose football team competes at the Division II level in the Southern Intercollegiate Athletic Conference.
Standing at 6-2 and weighing in at 210 pounds, a quick snapshot of Jones would suggest that he could excel at any level of college football. This past season, he racked up more than 2,000 all-purpose yards while scoring 10 touchdowns, six through the air, two on kickoff returns, one on a punt return and another via a 24-yard scoring scamper.
Impressive numbers by any standard, but believe it or not, Jones walked on to the football team at Lane after transferring from
University following his freshman year, a year in which he did not participate in intercollegiate athletics.
Watching Jones at practice, now performing against Division I competition, it seemed odd that he was not a scholarship athlete to start at Lane. That is, until he begins his story.
"When I came out of high school I was 5-7 and 160 pounds," Jones said. "I was recruited for track."
Then Jones grew, and grew some more to the point that when he went home to
New Orleans to visit his mother, Emily London, she could hardly recognize him.
"I went home one summer and my mom asked me, 'What have you been eating?'" Jones said. "And I went out one night and I was standing over people and I thought, 'Well, I must have grew.' That was my Christmas gift that year, I think it was in the Spring of 2004."
Though she was joking, for Emily London to even suggest she did not recognize Jones is saying something. She has a special relationship with her son, one that Jones was all too happy to talk about, even after a two-hour workout.
"That's my sister, my father, my best friend, my brother, she's all of those things," Jones said.
London who visited her son on campus to escape the storm.
"When the hurricane hit, she came to one of my home games and ended up staying with me for a week and a half," Jones said. "Then she left and went to stay with her brother in a small town in
Today, London is back living in
New Orleans and Jones is on a journey himself, one he hopes will end in the NFL.
This week he finds himself in
City. Not originally slated to participate in Saturday's tilt at Reliant Stadium, Jones impressed scouts and game organizers enough at last week's North-South Classic to garner an invite to the Shrine Game.
"Last week when I came into the North-South game I wanted to turn some heads, get some eyes on me to get a small school guy like me some exposure," Jones said. "When I got the call to come here, I said, 'Hey, I'm going to take this opportunity.'"
His performance this week has him at least a small step closer to his ultimate goal of playing in the NFL. Despite fighting the stigma that's attached to all small-school players come draft time, Jones has some lofty expectations for himself in the coming months.
"I'm hoping I can run a 4.3 (40-yard dash), get drafted the first day, make some history and get
College noticed," Jones said.
So what have the scouts noticed about the lanky receiver the past two weeks?
"My work ethic in practice," Jones said. "Showing them my hunger and that I was willing to work and beating the man in front of me."
And while his height may have grown since high school, one part of his body that might not have kept up are his hands, a point of emphasis for a wide receiver.
"They're complaining about my hand size," Jones said of what NFL scouts have told him about potential pitfalls. "I have pretty small hands. I can't even palm a girl's basketball, but I can catch a football and that's all that should matter, right?"
Jones has caught plenty of passes in practice this week and with a strong showing Saturday night, his stock should continue to rise. Following the game, he'll spend much of the next three months at the Saint Vincent Sports Center in
Indianapolis, the city which hosts the annual NFL combine.
It's there that his journey to the next level will continue or possibly end, but if Jones doesn't reach his goal, he won't be blaming his small-school roots. Getting noticed is something he's no longer concerned with.
"At first I was, but then I got a hunger and chip on my shoulder to work harder and if they find you, they find you," Jones said.