The Texans reached out to the youngest fans on Wednesday morning as the Lady Texans Wives Organization treated more than 100 area girls to a day of football and fun during the first annual "Girls…Get in the Game" event.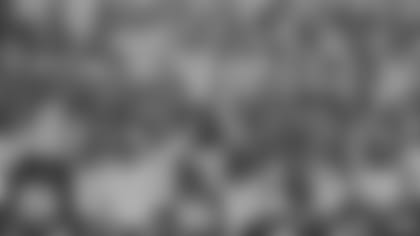 Young women from different local organizations joined the Lady Texans and the Cheerleaders at 8 a.m. for breakfast followed by workshops on health, hygiene and nutrition. Texans strength and conditioning coach Dan Riley, along with team nutritionist Roberta Anding, provided the eager attendants with tips on how to obtain and maintain a healthy body.
The girls were divided into teams with the Lady Texans serving as 'coaches' and leading them during warm-ups for the physical part of the day. Soon after, the Texans Cheerleaders were introduced to demonstrate a choreographed dance similar to one that would be performed during a game routine.
Darian Dow was one of the many who included the dance routine as her favorite part of camp.
"I love this stuff," she said. "Getting to meet the cheerleaders and actually learn one of their dances was the best part."
But football is what the Texans are all about, and the young fans were eager to begin the much anticipated football activities. Attendees were given the opportunity to participate in drills similar to those the Texans football team practices. Different stations were set up in the team's indoor practice bubble as the girls practiced the quarterback toss, and rotated in defensive, passing and tackling drills, as well as a field goal station.
"I loved the football drills the best because of the workout," Francis Hill said. "I'm a big fan now and I look forward to coming to games and coming back to camp next year."
The event was such a huge success that the Lady Texans already are looking forward to next year. Jill Evans, wife of Texans linebacker Troy Evans, was among the organizers.
"This is our first year doing it, so hopefully in the next couple of years we can get more girls involved, along with more activities and other sports," Jill said. "It really boosts a young girls confidence to be a part of something like this."
Lady Texan Traci Bruener, wife of tight end Mark Bruener, also was in attendance.
"I am excited to be involved in something that not only interests us, but is important to share with the young girls of this community," she said. "It's a good way to diversify what we do in trying to reach out to the community and become more involved with Houston."
The morning ended with pictures and autographs, but most importantly with smiles on the young girls' faces. The Lady Texans and Cheerleaders were happy to share their knowledge of dance and football with the young fans.